Recently OCZ announced its new 2.5 inch high-capacity Octane line of SSDs, utilising Indilinx Everest technology with capacities of up to 1TB.
The new disks are powered by a dual-core ARM CPU and include up to 512MB of DDR3 RAM. Available sizes will be 128GB, 256GB, 512GB and 1TB, coming in both SATA 3.0 and SATA 2.0 flavours.
OCZ Specifications
- Dual Core CPU
- Up to 512MB DRAM cache
- 128GB, 256GB, 512GB, and 1TB models
- High sequential speeds:
Octane (SATA 3.0) Read: 560MB/s; Write: 400MB/s
Octane-S2 (SATA 2.0) Read: 275MB/s; Write: 265MB/s
- High transactional performance - Optimized for 4K to 16K compressed files
Octane (SATA 3.0) 45,000 random read 4K IOPS
Octane-S2 (SATA 2.0) 30,000 random read 4K IOPS
- Industry-low latency:
Read: 0.06ms; Write: 0.09ms
- Strong performance at low queue depths (QD 1 – 3)
- Up to 8 channels with up to 16-way Interleaving
- Advanced BCH ECC engine enabling more than 70 bits correction capability per 1KB of data
- Proprietary NDurance™ Technology: increases NAND life up to 2X of the rated P/E cycles
- Efficient NAND Flash management: Dynamic and static wear-leveling, and background garbage collection
- Boot time reduction optimizations
- NCQ support up to 32 queue depth
- End-to-end data protection (AES)
- TRIM support
- Industry standard SMART reporting
Powered by the now-OCZ-owned Indilinx Everest technology, OCZ is claiming to have eliminated performance weaknesses inherent in SSDs such as file compression, with optimisations for 4 to 16K page sizes. The technology also brings up-to twice the typical NAND life, an exceptional internal bandwidth of 200 million transfers per second and up to 50 per cent faster boot times, according to OCZ; we suspect the disks learn to bulk-cache boot data to DRAM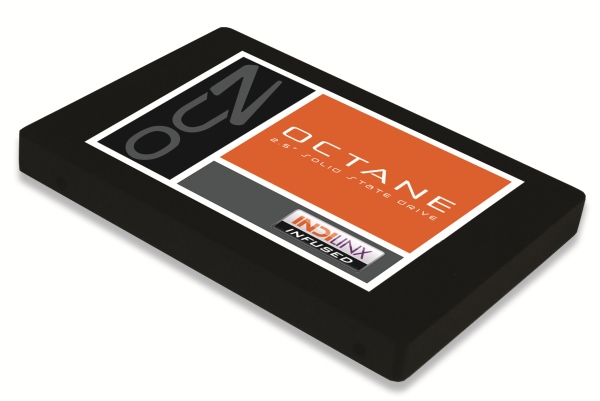 If these drives live up to expectations, as OCZ claims, there may no longer be any weighing up of pros and cons when looking to purchase laptop storage; aside from budget. OCZ SSDs are starting to offer compelling reasons for purchase, because they can deliver the capacity, consistent and much-improved performance, lower power consumption and ruggedness ideal for a portable environment.
We can't wait to test OCZ drives sporting the Everest platform. Expect retail availability of the 2.5in Octane line from November 1st.