We're getting used to OCZ leading the charge on performance storage at the annual CES tradeshow, and 2011 is proving to be no different.
2010 gave us the award-winning Vertex 2, and a year later we're being treated to a first look at the upcoming Vertex 3.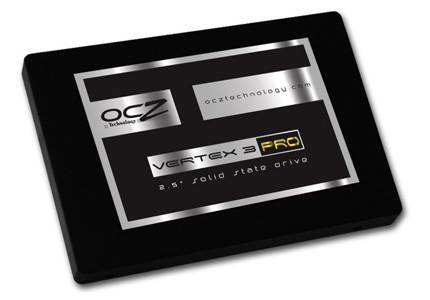 The 2.5in drive, pictured above, is based on the next-generation SandForce SF-2000-series controller - the SF-2582 to be specific - and promises to wipe the floor with any existing 2.5in competitor.
To be produced in both MLC (Vertex 3 Pro) and SLC (Vertex 3 EX) flavours, the drive will be available in 50GB, 100GB, 200GB and 400GB capacities, and will sport a high-speed SATA 6Gbps connector.
And you're going to be thankful for the quick interface as OCZ reckons the Vertex 3 will hit read and write speeds of 550MB/s and 525MB/s, respectively. For a single 2.5in drive, that's insanely quick, and 4K IOPs performance is rated up to a blistering 80,000.
That's the good news, but here's the bad; OCZ's currently demoing the drives in pre-release form. A retail release is still some way off, and the Vertex 3 may not hit stores until the second quarter. Stay tuned as we'll be going hands-on with the Vertex 3 and OCZ's other CES announcements later today.