One of the most interesting things about the new MacBook Airs were the custom SSDs that managed to fit plenty of storage into an exceptionally small space. However, the proprietary parts raised questions about the ability to find upgrades at a later date, or even source replacements.
It looks like this might not be such an issue, though, as Toshiba has announced that it will be selling the drives to other system builders as the Blade X-gale SSDs. From what we can tell, these are the exact same modules that can be found in Apple's super-skinny laptops. This means that they'll be available in 64GB, 128GB and 256GB capacities and offer sequential read and write speeds of 220MBps and 180MBps, respectively.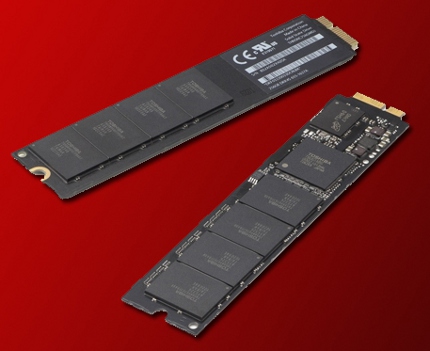 They also carry the same diminutive dimensions, with the single-sided 64GB and 128GB versions measuring only 2.2mm in height and weighing in at under 10g each. The manufacturer claims that this makes them 42 per cent thinner than typical mSATA SSDs.
According to Toshiba America VP Scott Nelson, "up to this point, SSD designs also followed the basic design of small form factor HDD - which does not fully leverage the capabilities of high density NAND technology. Toshiba's module-based SSDs break with this approach, giving hardware designers greater freedom and flexibility in enabling their product design".
Understandably, Toshiba won't be selling these to the public - at least not initially - but since systems need to be built specially to accommodate the odd form factor, it shouldn't be a huge loss. Instead, the company will be offering them to OEMs and system builders for use in next generation notebooks.
Obviously SSDs are still the preserve of high-end systems, so don't expect to see them in just any laptop. However, they're sure to start appearing in the latest high-end ultraportables in the coming months.