Seagate has bulked up it range of storage for gamers with the launch of the new FireCuda 520 PCIe Gen 4 x4 SSD and the 4TB FireCuda Gaming Dock. The first of these products is pretty straightforward, it is a M.2 2280 double-sided PCIe Gen4 ×4 NVMe 1.3 SSD and will be made available in capacities of 500MB, 1TB and 2TB. The 4TB FireCuda Gaming Dock can be summarised as an external 4TB HDD that interfaces to your PC via Thunderbolt 3 - however it includes niceties such as an NVMe M.2 expansion slot, DisplayPort 1.4, RJ45 Ethernet, audio interface and more.
"Next-gen gaming is all about speed, compatibility, and flexibility," said Jeff Fochtman, VP of marketing and consumer solutions for Seagate. "Our FireCuda storage solutions deliver the performance, simplicity, and ingenious design to help gamers realize peak potential."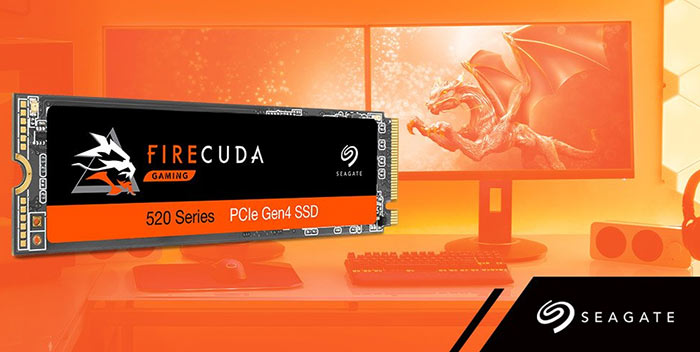 Seagate FireCuda 520 PCIe Gen 4 x4 SSD
Seagate promises "faster gaming" with its Seagate FireCuda 520 PCIe Gen 4 x4 SSD. It is designed for pro-level gaming, it says, and is nearly 45 per cent faster than previous gen M.2 PCIe devices from Seagate.
Moving onto harder tech information, the FireCuda 520 uses 3D TLC NAND and is capable of sequential read/writes up to 5,000/4,400MB per second. The M.2 2280 NVMe form factor storage stick plugs straight into AMD X570 chipset PCIe 4.0 motherboards for leading performance but is backwards compatible with PCIe 3.0 platforms.

Seagate is offering buyers of the FireCuda 520 PCIe Gen 4 x4 SSD a five year warranty with 1.8M hours MTBF, and up to 2,800 TBW (varies with capacity). In an email to HEXUS, Seagate said that the FireCuda 520 retails for £125.90 (500GB), £234.90 (1TB), and £409.00 (2TB) with immediate availability.
4TB FireCuda Gaming Dock
Docking systems are pretty convenient for people on the go but most are aimed at the professional mobile workforce and similar. Seagate hopes that its new 4TB FireCuda Gaming Dock can have a strong pull on a different demographic - PC gamers. As is obvious from its name, this Thunderbolt 3 connecting device comes with 4TB of storage built-in. However this is HDD storage. Not to fret though, as the dock has a slot for an PCIe Gen3 NVMe M.2 SSD for frequently accessed files - your current favourite games or active projects perhaps.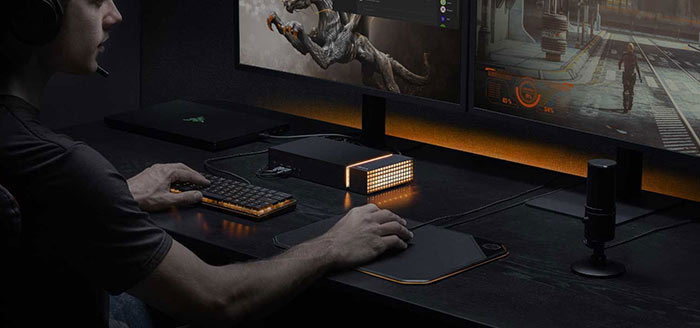 A Dock wouldn't be a dock without providing a plethora of fixed ports. Once you have plugged in the Thunderbolt 3 cable the new Seagate device will provide a Thunderbolt 3 accessory port, DisplayPort 1.4, RJ45 Ethernet network port, a 3.5mm audio-in/mic port, 3.5mm audio-out port, four USB 3.1 Gen2 ports, and a USB 3.1 Gen2 charge port - as well as the built-in and optional storage. However, please note that this dock doesn't provide power to laptops, whatever power port you might have on your portable.

RGB LEDs take this device deeper into gaming territory. Of course the LED lighting is customisable and software lets you easily choose colours and effects.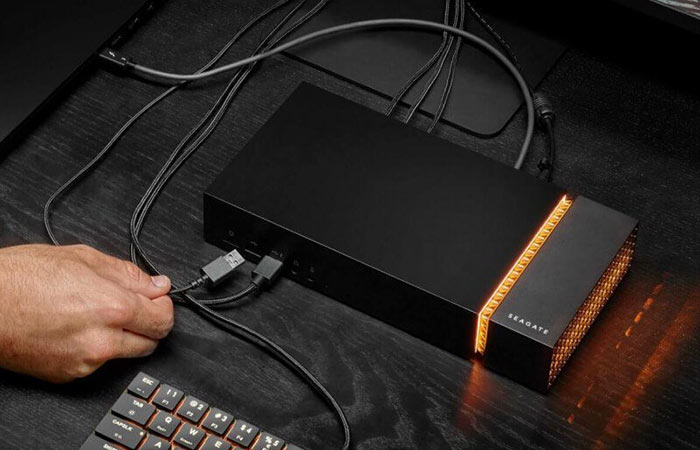 Seagate told HEXUS that the Gaming Dock will start to become available later this month for £379.99. Buyers get a three year warranty.