HEXUS reviewed one of the first AMD 400-series motherboards, back in April this year. That was the Aorus X470 Gaming 7 Wi-Fi, a high-end board launched to coincide with the release of a quartet of new and powerful Ryzen 2000-series CPUs.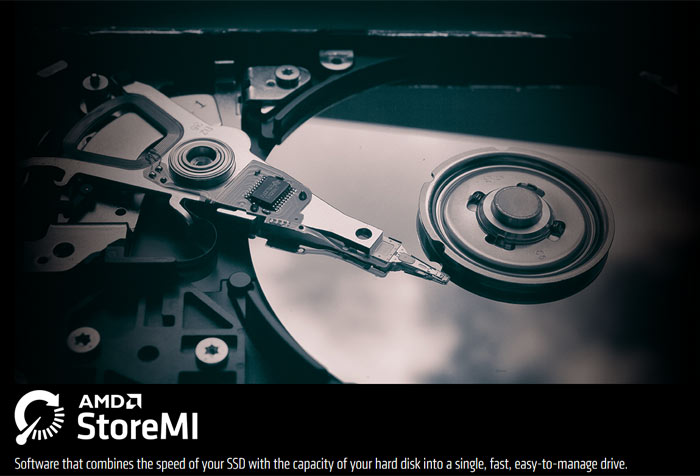 In his Aorus X470 review intro, HEXUS Editor Tarinder mentioned the new AMD StoreMI Technology, a storage-amalgamating technology that is separately marketed as Enmotus FuzeDrive. To recap, AMD StoreMI combines the storage in your PC into one drive and optimises it by moving the most commonly used files to the fastest storage medium. The whole process is invisible to the end user and to install this software you don't even have to re-install your OS, even if you add drives(s) to the system.
AMD now has a dedicated technologies page where it talks about StoreMI Technology. Importantly it says that "AMD StoreMI Technology is included with every Socket AM4 motherboard that features an AMD 400-series chipset," and supplies a free download link and user guide at the foot of this same page. RAM-wealthy users might also be tempted to set an optional DRAM cache of up to 2GB. StoreMI utilizes only about 1-2 per cent of the CPU for 'machine intelligence' and so on.
Only yesterday HEXUS wrote about multiple AMD motherboard partners revealing their B450 chipset based AM4 motherboards ahead of an official launch by AMD, and it looks like AMD is getting ready too, with two videos published to its YouTube channel concerning StoreMI Technology. The videos you can watch now show How to Unlock AMD StoreMI Technology, and explain the Benefits of AMD StoreMI Technology. I've embedded them above and below for your convenience.
The How-To video shows you step by step instructions for getting AMD StoreMI Technology up and running on your PC. It looks very simple, and fast (if the progress bar section of the video hasn't been sped up). The benefits video includes claims that users can launch Windows up to 2.4 times faster, games at up to 2.8x faster and applications at up to 9.8x faster - offering the best of both SSD and HDD worlds of speed plus capacity.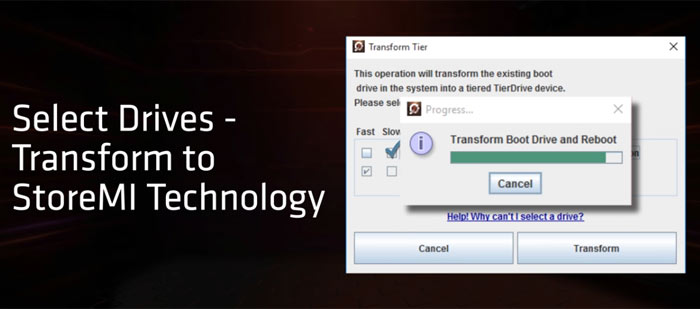 Those with no intention of acquiring an AMD 400 Series motherboard but who own a Ryzen system and like the sound of the tech can head on over to the Enmotus FuzeDrive page and ponder over the $20/$60 fee for the software. There is a version of FuseDrive here for all modern systems (AMD Ryzen, or Intel sixth gen Core processor and newer based PCs) but it costs $40/$60.