Memory specialist Kingston has introduced its new A1000 PCIe NVMe SSDs. The new range is available in 240GB, 480GB, and 960GB capacities and they are all single sided PCB 2280 M.2 format sticks. Kingston leverages a PCIe NVMe Gen 3.0 x2 interface, 4-channel Phison E8 controller, and 3D NAND TLC Flash to construct these drives. A headlining claim made by Kingston is that the A1000 PCIe NVMe SSDs will be made available "at near SATA pricing" but deliver almost double the speed of SATA-based rivals.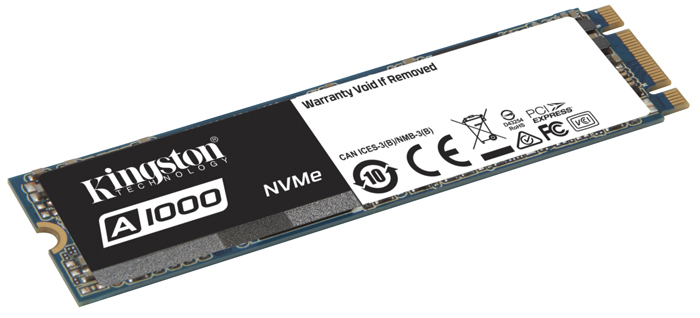 "Kingston is excited to release its newest SSD for the entry-level PCIe NVMe market. Designed with 3D NAND Flash memory, A1000 is more reliable and durable than a hard drive, and doubles the performance of a SATA SSD. Now we can give consumers the benefit of PCIe performance at about the same price as SATA," said Ariel Perez, SSD business manager, Kingston.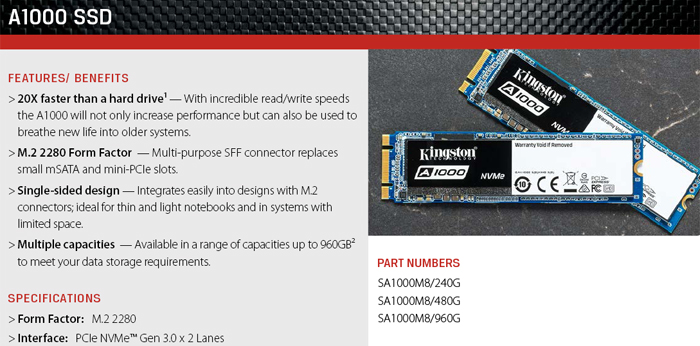 Due to their single sided design, Kingston reckons its A1000 PCIe NVMe SSDs are ideal for laptops and systems with limited internal space. These 22 x 80 x 3.5mm sized fixed storage sticks offer the following read/write performance metrics (via I/O Meter software testing), dependent upon capacity:
Sequential Read/Write:
240GB: up to 1,500/800MB/s
480GB: up to 1,500/900MB/s
960GB: up to 1,500/1,000MB/s
Random 4K Read/Write:
240GB: up to 100,000/80,000MB/s
480GB: up to 100,000/90,000MB/s
960GB: up to 120,000/100,000MB/s
Power consumption figures are quotes as 0.011748W Idle / 0.075623W Avg / 0.458W (MAX) Read / 0.908W (MAX) Write. Kingston provides Total Bytes Written (TBW) figures for the drives as follows 240GB: 150TB, 480GB: 300TB, and 960GB: 600TB. All the drives are rated for 1 million hours MTBF, backed up with a 5-year warranty.

Turning to pricing, not disclosed in the email or press release, I visited the Kingston web store and added one of each of the A1000 PCIe NVMe SSDs to my basket, as you can see above. Just in case you have images turned off, the 240GB model is priced at £94.63, the 480GB model at £161.52, and the 960GB model at £300.85. All those prices include UK VAT. 1-2 day delivery via TNT/UPS is under £10, direct from Kingston. Thus, rather than being priced at near-SATA levels, they are about 50 per cent more expensive than similar capacity SATA SSDs here in the UK. Nevertheless they are indeed well priced for PCIe NVMe SSD drives that have just been launched.