Performance PC peripherals maker Corsair has launched its first ever range of PCIe SSD add-in cards (AICs). The new Corsair Neutron NX500 NVMe PCIe SSD AIC will provide up to 5x faster performance than the company's SSDs, delivering previously out of reach sequential and IOPS read and write speeds. These are Corsair's fastest SSDs yet. Corsair hopes to sell these new SSD AICs to pro gamers, workstation users, and content creators.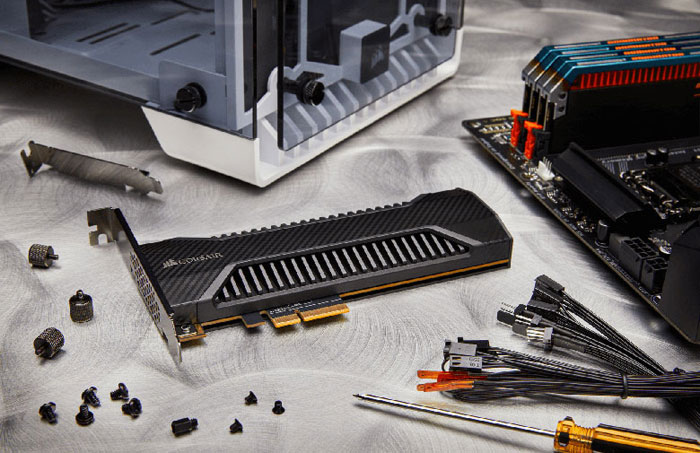 As you can see from the description and pictures you add this storage device to your system via a PCIe slot on your motherboard. To get the full potential out of this AIC you must choose a PCI Express 3.0 x4 slot, or better. Suitably connected the Corsair Neutron NX500 NVMe PCIe SSD AIC will provide great bandwidth and performance as follows: up to 3,000MB/sec sequential read and 2,400 MB/sec sequential write speeds, or 300K/270K IOPS random read/write.
The Corsair Neutron NX500 NVMe PCIe SSD AICs will be made available in 400GB, 800GB and 1,600GB capacities. From the product images you can see the flash storage components are clad in a custom designed heatsink. Corsair claims its design "all-but eliminates performance thermal throttling thanks to temperatures up to 20°C lower than M.2 PCI Express NVMe SSDs". I'd assume it means in comparison to 'bare' M.2 SSDs.
Corsair uses high-performance MLC NAND, and a dedicated DDR3 cache in its AIC design. The NX500 also boasts enhanced error correction, dynamic wear-levelling and advanced garbage collection, for improved NAND lifespan and reliability.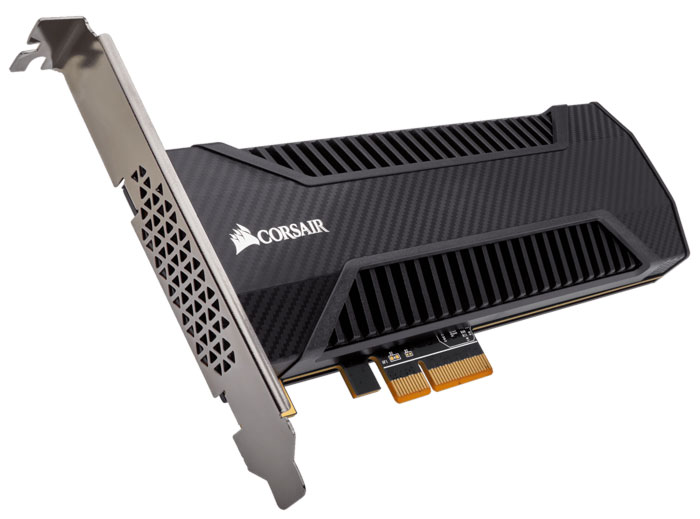 PC users can take advantage of Corsair's existing drive tool software 'Corsair SSD Toolbox' which facilitates in-depth over-provisioning support, Secure Erase, disk cloning, and firmware updates. Furthermore, users can monitor S.M.A.R.T attributes and overall SSD health in the app.
Specifications:
NVMe Interface Faster than SATA 3.0: Up to 5X faster in sequential read and write than SATA 3.0.
PCI Express 3.0 x4 The NX500 accesses your PC's PCI Express bandwidth and puts your data in the fast lane, leaving SATA SSDs in the dust.
Dedicated Cooling: High-surface-area heatsink from the cooling experts at CORSAIR keeps your storage cool and always at peak performance.
Multi-Level Cell (MLC) Endurance: Better reliability and higher performance than Triple-Level Cell (TLC) NAND SSDs.
High-Bandwidth, Low-Latency Storage: Easily handles demanding gaming, productivity, and content creation workloads.
Enhanced Error Correction: Additional error bit correction and improved data retention while supporting the latest generation, high endurance MLC NAND.
Static and Dynamic Wear-Leveling: Works with MLC NAND to contribute to an overall enhanced lifespan.
Compatible with CORSAIR SSD Toolbox: Support for over-provisioning, Secure Erase, disk cloning and firmware updates, or monitor S.M.A.R.T attributes and SSD health, all from your desktop.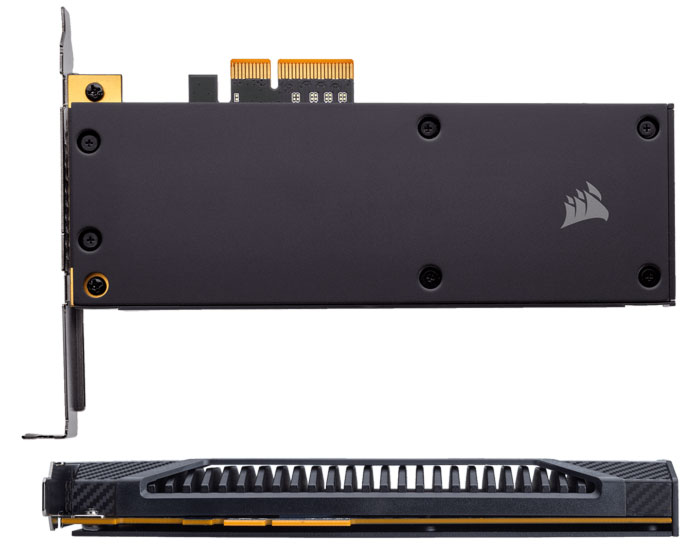 The Corsair Neutron NX500 NVMe PCIe SSD AIC in 400GB and 800GB capacities are available immediately, at £339.99 and £694.99 respectively in the UK. If you are interested in the 1.6TB version you will only have to wait until later this month. Buyers get a five year warranty.