Sony has announced that it will shortly release "the world's fastest SD card". The new Sony SF-G series of SD cards will offer read speeds of up to 300MB/s and write speeds of up to 299MB/s. Designed for pro photographers and videographers these UHS-II SD XC cards will be made available in capacities of 32GB, 64GB and 128GB.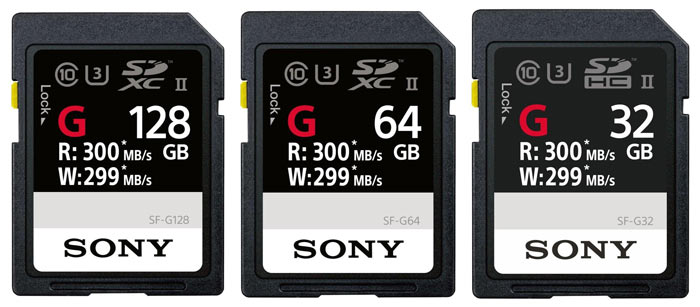 "As the continuous shooting of higher-resolution images and adoption of 4K video with DSLR and mirrorless cameras increases, the inherent need for larger, faster and more dependable cards becomes apparent," said Viviano Cantu, VP of Product Marketing at Sony Americas. These demands are met by the new SF-G series, asserts Cantu.
To work at their peak rated speeds Sony leverages a "unique firmware" which facilitates the fast R/W speeds and contributes to shorter buffer clearing times. An algorithm in the firmware prevents data writing slowdown when partaking in high speed continuous shooting, says the firm.
Sony's new cards aren't just fast, they are said to be reliable and durable with water proof and anti-static capabilities. If you do have trouble with damaged or accidentally deleted recorded images and video, Sony supplies free File Rescue software which can smartly recover media in formats which include RAW images and 4K XAVC-S video files.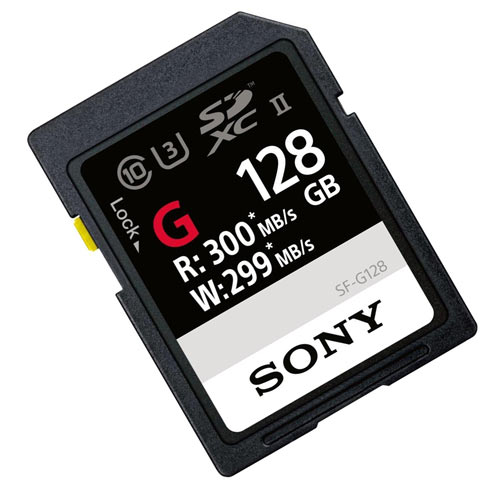 The Sony SF-G series of memory cards will be available to purchase from spring. At the same time Sony will be releasing the MRW-S1 SD card reader, supporting UHS-II. This PC accessory will need to connect via a USB3.1 Gen1 port to fulfil its transfer speed potential. Pricing is yet to be confirmed.