Alongside the launch of the GeForce GTX 1000 Series of graphics cards Nvidia introduced a new feature called Ansel. This interesting feature had nothing to do with games performance or graphics quality but allowed a new type of screenshot to be composed and captured. According to Nvidia's own blurb Ansel provides "a powerful, easy-to-use camera that could capture unique, professional-grade 2D, 360° and Virtual Reality 360° screenshots," in certain compatible games. Though Ansel was launched alongside the new Pascal graphics card range it supports cards as old as the GTX 600 Series.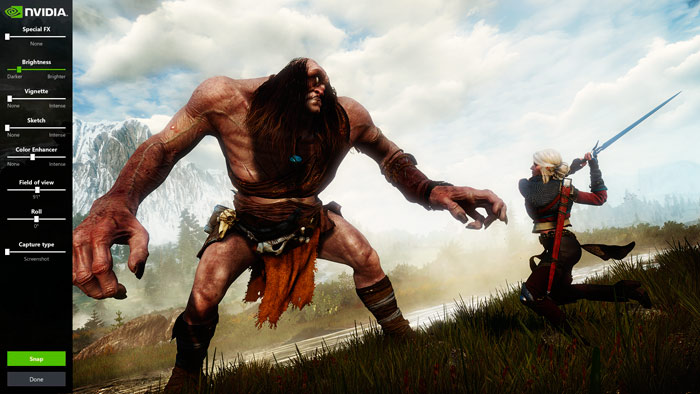 No credit where credit's due
Yesterday Nvidia was accused of stealing significant parts of Ansel code from Marty McFly Modding. Following investigations by the modder, it appeared that large swathes of Ansel post-processing tool code were lifted directly from 'MasterEffect' by Marty McFly Modding. Furthermore various Nvidia files contained the modder's variable names, comments and so on. No credit was given to the modder by Nvidia.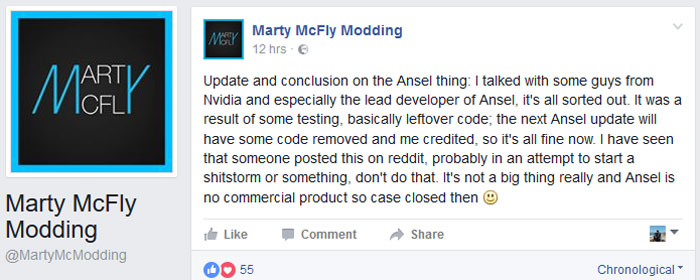 Sorted out
A few hours ago Marty McFly Modding issued a Facebook status update, as above, saying that the non-credit code theft issue had been "all sorted out". Apparently the modder's code was used for "some testing" by the lead developer of Ansel, and that the copied code was simply "leftover code". The upshot is that "the next Ansel update will have some code removed and me credited, so it's all fine now" said the modder. Marty McFly Modding also felt slightly appeased due to Ansel not being a 'commercial product'.