Performance PC components specialist G.SKILL has launched a new range of DDR4 memory chips aimed at those who want to enjoy the ultimate in performance – with the looks to match. With the growing popularity of PC modding, and the building of PCs with large side windows becoming commonplace, people are getting rather conscious about what their PC innards look like. G.SKILL Trident Z DDR4 colour schemes are made to appeal to this growing requirement, and to the performance market segment.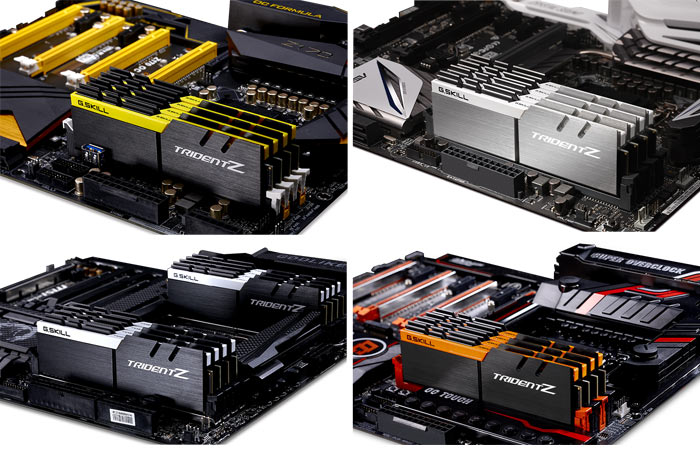 Regular HEXUS readers will be well aware of G.SKILL Trident Z DDR4 memory. Only last September HEXUS Editor in Chief, Tarinder, wrote up a comprehensive review of the F4-3000C15D-16GTZ 16GB (2x8GB) kit. Already, the standard Trident Z DDR4 kits offered attractive, well engineered looks with impressive performance. Now the firm has stepped up a gear to address the colour schemes people are gravitating to, beyond the clichéd standard black and red gaming machine colours.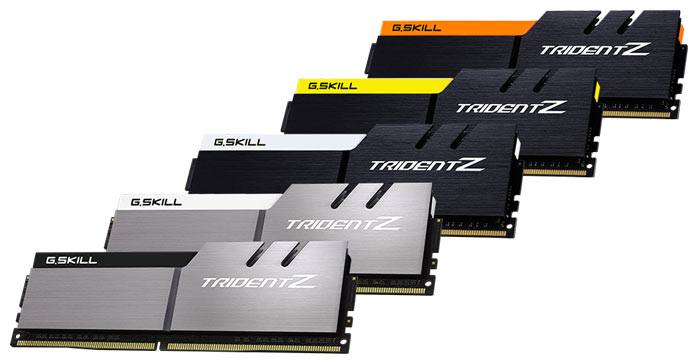 You can see the five colour combinations above. Remembering the standard Trident Z colours are a black or silver brushed aluminium headspreader main section with a red top bar and black or silver cooling fins on top, users now have many more options.
Having all its memory kits available in all the permutations of colours available, now there are so many, would mean a huge burden of stock keeping for G.SKILL and its suppliers so the various colour kits are only available in certain colours. Handily G.SKILL has put together a chart, reproduced below, to make it clear which kits are available in which colour combinations.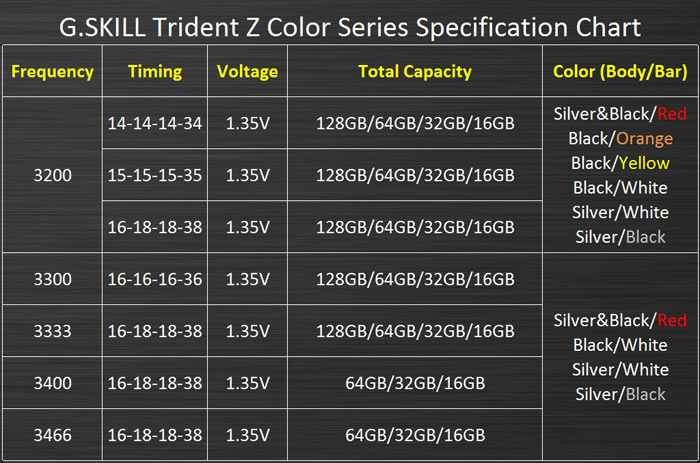 G.SKILL says that the new Trident Z DDR4 colour kits will start to become available at the end of the month.