SK hynix will begin mass production of its 4GB and 8GB HBM2 stacks in Q3 and Q4 2016 respectively. The information about the schedules comes from a report carried by Golem.de, with timescale information provided by an unnamed SK hynix insider. This is important news for PC enthusiasts as both AMD Polaris and Nvidia Pascal will be using HBM2 memory. It is noted that SK hynix is also producing 2GB stacks which the insider did not comment upon in terms of mass production timescales.
As we expect the first batch of next generation graphics cards, packing HBM2, from both AMD and Nvidia before Q3 2016 these will obviously use memory sourced from either SK hynix small scale production, or perhaps the 2GB HBM2 line from SK hynix, or Samsung HBM2 DRAM. We learnt in January that Samsung has already started mass production of 20nm 4GB HBM2. Samsung will also progress to 8GB HBM2 production at a point later this year.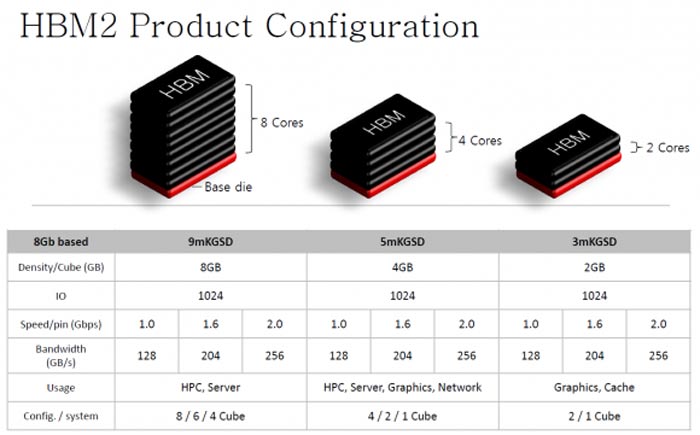 Back to SK Hynix, and an overview of the upcoming HBM2 production, its specifications and its target markets is given above. Remember that HBM2 keeps the 1024-bit interface of HBM1 but has the potential to offer twice the bandwidth thanks to its faster speed per pin.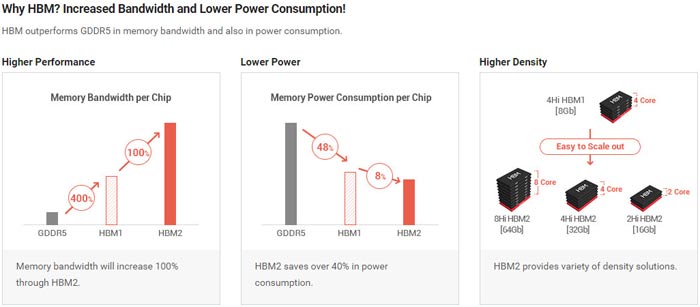 You can see graphs, above, illustrating the advances on offer from HBM1 and HBM2 over the memory most current generation graphics cards use right now. This nice linear graph will be muddied this summer by the introduction of GDDR5X by Micron, aiming to provide an upgrade to many current graphics card designs with improved power consumption and approximately double the memory bandwidth on offer (compared to GDDR5-based models).