G.SKILL, the performance PC memory and peripherals specialist company, has announced the addition of DDR4 SO-DIMM module kits as part of its Ripjaws range. These modules are designed to provide the maximum performance and reliability in your laptop or AiO system, or basically any PC system which employs compact SO-DIMMs.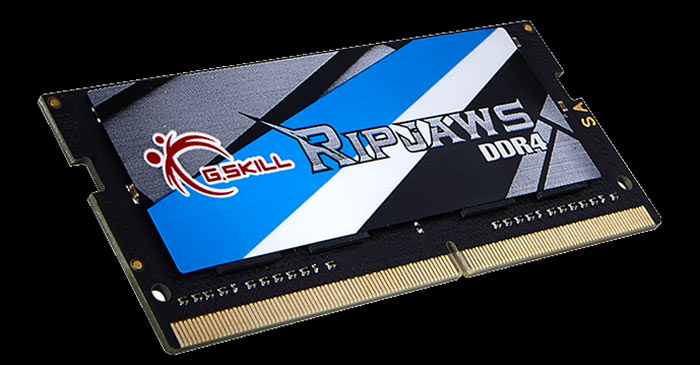 The new Ripjaws DDR4 SO-DIMMs are said to be hand-picked via G.SKILL's "rigorous and highly selective binning process". Thus G.SKILL has been able to assemble 'extreme performance' kits at up to 2800MHz 64GB (4x16GB).
Matched memory kits are marketed at the headline 2800MHz in capacities of 4GB, 8GB, 16GB, 32 GB and 64GB. Kits are also being produced, in the same range of capacities, rated at speeds of 266MHz, 2400MHz, and 2133MHz. Please refer to the table below for all kit configurations.

In an email to HEXUS G.SKILL explained that the Ripjaws DDR4 SO-DIMM series features auto-overclocking. On suitably qualified systems the rated overclock speeds will automatically be detected and used. That's a great installation shortcut, saving the time for all installers of having to delve into manual BIOS settings.
G.SKILL's Ripjaws DDR4 SO-DIMMs run at just 1.2V helping reduce power consumption and reduce energy wasted as heat. In confined form factor systems the modules should contribute to overall cooler, quieter, and more stable computing.

Pricing and availability of the G.SKILL Ripjaws DDR4 SO-DIMM kits is yet to be announced.