GeIL is today unveiling a refresh of its EVO ONE line of gaming memory with the progressively named EVO TWO. These dual-channel DDR3 kits come in at the very top of GeIL's range and can run at speeds of up to 2,000MHz with timings of CL6-9-6-24 or a blistering 2500MHz at CL9-11-9-27 (though no word on the voltage required to hit that). The sky-high frequencies are only guaranteed on select Intel P55 chipset-based boards. GeIL qualifies them on an EVGA P55 FTW 200 with a Core i7 860 in situ.

The manufacturer is also claiming rock-solid stability and reliability as a result of GeIL's Die-hard Burn-in Technology (DBT). This means that each kit has been torture tested at high speeds for up to 24 hours to ensure it can withstand maximum speeds and tight timings. Each stick also has a newly-designed heatsink to keep everything ticking along at safe temperatures.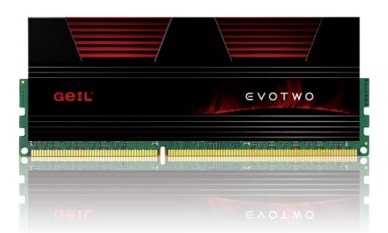 While this isn't the first RAM to come to market at this speed, competition at the high end is never a bad thing. GeIL has a solid reputation for making high-quality RAM modules, and we'd expect these to be no exception. As long as the kits, which will be available in 4GB (2x2GB) and 2GB (2x1GB) flavours, are priced competitively, they should make a nice addition to any enthusiast's next build. No word as of yet on pricing of availability, but we'll be sure to update as soon as we know more.