Everyone in the tech industry appears to be jumping on the eco-friendly bandwagon and memory-manufacturer GeIL is no different. At CeBIT 2009 it was showcasing the Green Series DDR2 modules that are available in up to 4GB kits with DDR2-1,066MHz CL6 speeds.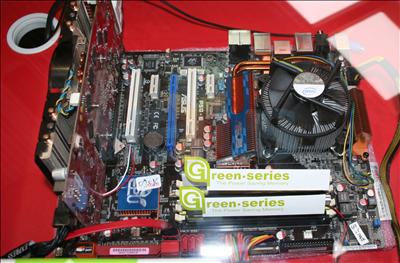 The 'green' comes from their low power consumption, apparently, with the modules specified to work at 1.6V rather than the JEDEC-standard 1.8V for regular DDR2. GeIL reckons that the modules save a few watts when compared to generic stuff, which may well be true, but there's at least one fly in this particular ointment.

Showcased running at 1.55V, most DDR2 boards don't give you the option of selecting below-JEDEC voltages in the BIOS. Indeed, the ASUS motherboard, shown above, had a resistor manually changed to allow for 1.55V. Further, the limited-quantity production of the modules means that, right now, they're going to be a little expensive.

Someone has to dip their toe in before the rest of the industry bites, so we're fans of any technology that can save power. Let's hope that motherboard manufacturers follow suit and release subsequent boards that harness lower-than-default voltages. Imagine 20m boards using, say, 5W less apiece.

What do you think? Has this idea got legs?