SK hynix today announced that it has developed a new kind of High Bandwidth Memory (HBM). Its HBM2E DRAM chips offer "the industry's highest bandwidth," it boasts. The new memory chips deliver approx 50 per cent higher bandwidth than HBM2, and furthermore, they will roll off the production line in double the max capacity of their predecessors.
SK hynix's HBM2E supports over 460GB per second bandwidth based on 3.6Gbps speed performance per pin with 1,024 data I/Os. Thanks to the use of TSV (Through Silicon Via) technology up to 8x 16Gb chips are vertically stacked into a single 16GB capacity HBM2E memory package.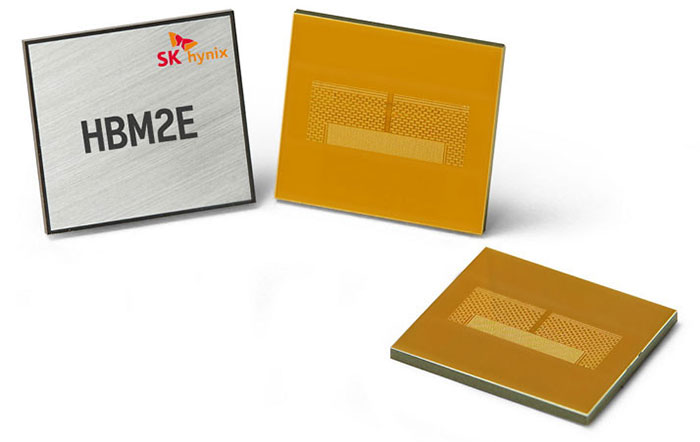 In its press release SK hynix says that its new HBM2E DRAM modules will be bought up by makers of high-end GPUs, supercomputers, machine learning, and artificial intelligence systems "that require the maximum level of memory performance". It reminds us that HBM chips are integrated much more closely to processors such as GPUs and logic chips which enhances their data transfer performance.
The first SK hynix HBM2E chips will hit mass production in 2020. Next year the memory maker expects the 'fourth Industrial Era' and the high performance components and systems outlined above, to move up a gear.
SK hynix isn't the first memory maker to enhance HBM2 memory. For example, in early 2018, Samsung announced its 8GB HBM2 'Aquabolt' modules which were the industry's first to deliver 2.4Gbps data transfer speed per pin. The resulting 8GB HBM2 Samsung Aquabolt package could support 307GB per second bandwidth. Samsung continues to work on improving its HBM2 offerings.