The world record memory speed sparring between G.Skill and Corsair continues today as the former retakes the lead. The particular record under contest concerns 32GB (4x8GB) DDR4 memory kits. On Monday Corsair proudly took the record for the world's fastest 32GB DDR4 memory kit (at 4333MHz), but it has only held the crown until today as G.Skill has announced that its "extremely blistering DDR4-4400MHz CL19-19-19-39" DDR4 memory kit is ready.

In an email to HEXUS, G.Skill explained that it had been able to assemble and validate these new 4400MHz memory kits by carefully selecting, rigorously testing speed binned ultra-performance Samsung B-die DDR4 ICs. With greater capacity kits it becomes increasingly difficult to hit the top-end MHz validations required, making the achievement all the more notable, and expensive.
G.Skill validated and stress tested its new DDR4 32GB Trident Z Memory Kits at 4400MHz CL19-19-19-39 (at 1.5V) using a system based around an the Asus ROG Maximus X Hero (Wi-Fi AC) motherboard with an Intel Core i7-8700K processor. It notes that the "availability of the ASUS OptiMem technology, which complements the T-Toplogy layout that uses equalized trace lengths, four-DIMM memory configuration has improved stability and memory overclocking performance".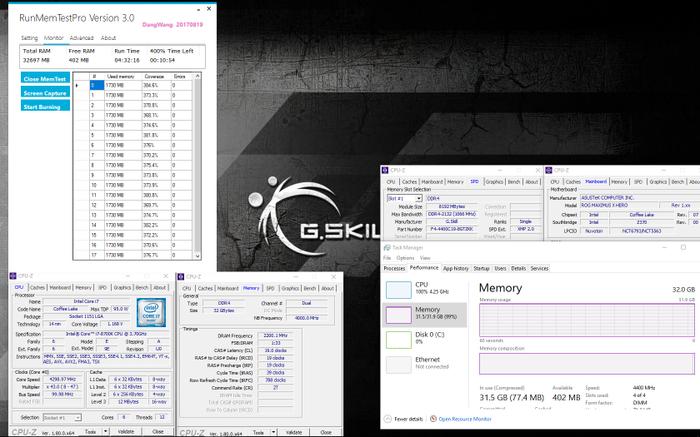 Click to zoom in
As usual this new memory kit from G.Skill is programmed with the Intel XMP 2.0 profile to help easily enable the memory settings in BIOS. G.Skill says overclockers could still find that manual tweaks and settings adjustments may well afford extra performance from this DDR4 system.
G.Skill didn't share the MSRP and release date for its new 32GB kit. It's not listed on the 4400MHz achievable Trident Z desktop memory kits products page at the time of writing.