Lian Li has started to offer a new product range beyond its staple chassis business but in a complementary component market – PSUs. Into this market it has, without fanfare, launched a duo of power supplies, the PE-550 and PE-750, rated at 550W and 750W respectively. These aren't full sized PSUs but are 'SFX-L' sized which, as it sounds, is a longer SFX power supply, allowing for greater power output and larger internal cooling fans.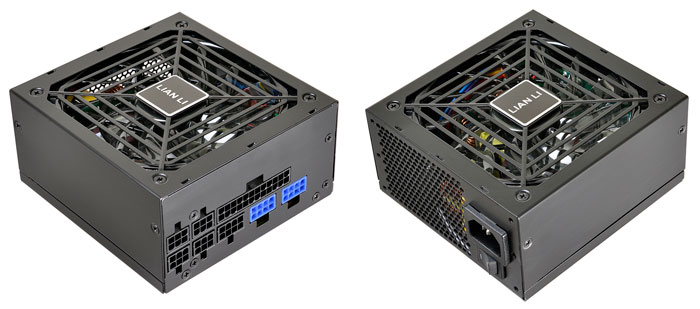 Lian Li PE-550
As a pair of PSUs in a range these units look very similar and offer similar features. They are both modular with the same cable connectors provided, both contain an 'ultra quiet' 120mm fan which varies its speed depending upon temperature and/or output power, and both measure 130mm x 125mm x 63.8mm.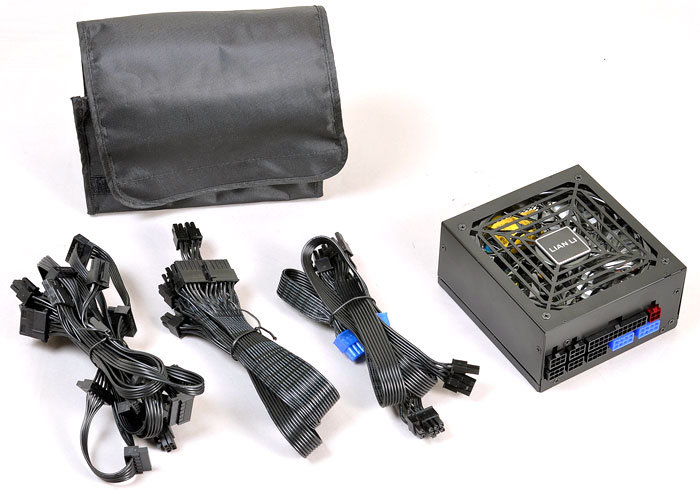 PE-750 pack
The following modular cable connectors are on offer from either of the new Lian Li PSUs:
24/20-Pin motherboard connector(400mm)x1
8/4-Pin EPS / ATX 12V connector(400mm)x1
8/6-Pin PCIE connector(150mm/400mm)x2
SATA connector(100mm/100mm/200mm/300mm)x3
4-Pin Floppy / 4-Pin Peripheral connector (100mm/200mm/200mm/300mm)x1
For differences you can see that the PE-750's power connectors protrude a little, but beyond this small detail we must compare the power tables and efficiency ratings.

The PE-550 is 80 PLUS Gold level efficient >86.5% (89.5% max) and offers AC Input / DC output as above.
Its max output capacity is 600W.

The PE-750 is 80 PLUS Platinum level efficient >89% (92% max) and offers AC Input / DC output as above.
Its max output capacity is 800W.
Lian Li's PE-550 and PE-750 were spotted by the SFF Network site which has scrutinised the pair of new SFX-L PSUs and concluded that they are being manufactured by Enhance. The high powered PE-750 is particularly welcome in this market segment as it will provide another choice to high-end dual-GPU SFF builders and provides a little more power than the upcoming Silverstone SX700-LPT.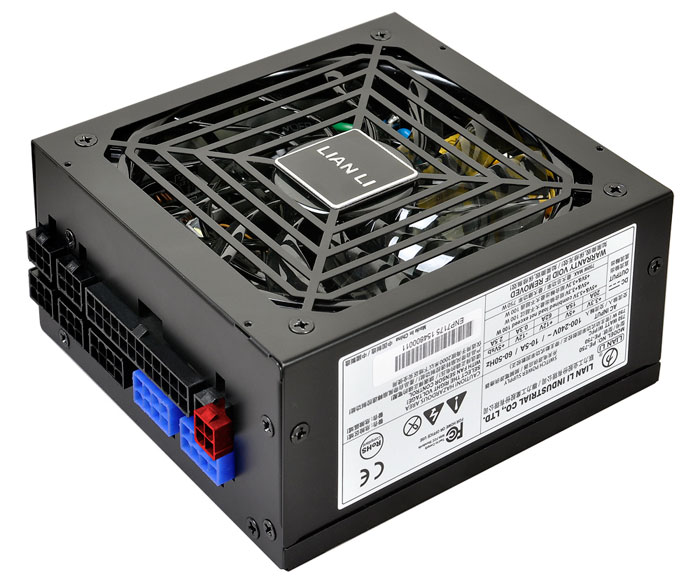 Lian Li PE-750
Pricing and availability are yet to be announced.