We heard about MaxRevo PSUs from Enermax during CeBIT, and the company has officially launched its flagship range today.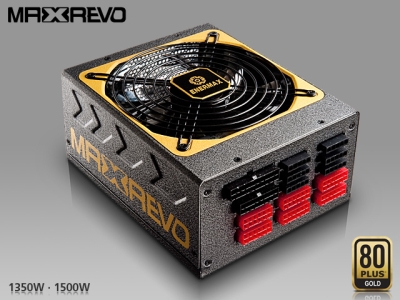 Available in modular 1,350W and 1,500W varieties, MaxRevo PSUs are equipped with six 12V rails, promising stability and efficiency. Certified as meeting the requirements for 80PLUS Gold accreditation, it's claimed that efficiency reaches up to between 90 and 94 per cent at 230V, with loads of between 20 and 100 per cent.
The manufacturer adds that it has used 'Copper-Bridge Array' transmission technology to reduce signal resistance, thereby delivering a cleaner DC output. Technological advancements apparently also mean that there's more space inside the PSU, aiding airflow, and assisting the 'silent' Twister fan to maintain an optimal operating environment.
If the MaxRevo satisfies a penchant for power, you can expect the 1,350W flavour to come in at £289.90 including VAT. The MaxRevo 1,500W, comes in at £319.90 including VAT.