We had a chance to take a look at Enermax's Revolution85+ 850W PSU last year and came away suitably impressed.
Now the company is adding two new PSUs to the family that try and improve on the winning formula. The new entries come in 920W and 1,020W flavours and feature a modular design, 80PLUS Silver certification and a 135mm cooling fan.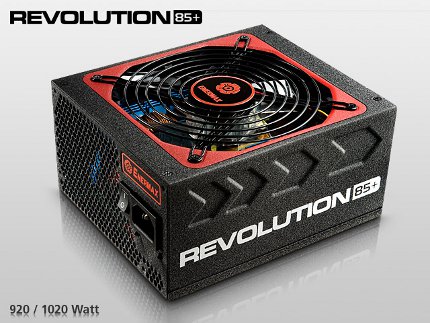 A few changes to the design have also been made, with the new units making use of four 12V rails, compared to the six used in older models. Each rail now delivers a maximum of 35 Amps due to improved over-current protection, and the company has also managed to shrink the casing from 190mm down to 175mm - an impressive size for a PSU over 1kW.
Enermax has even dealt with the few criticisms that we had of the original models. The three-year warranty has now been extended to five years, which is more in line with what we'd expect from a premium power supply.
Our other complaint - the price - has also been addressed with MSRPs reduced to £215.90 for the 920W model and £245.90 for the 1020W model.
Worthy additions to the Revolution85+ series? Perhaps, but with the older 950W now available for under £200, the high prices may continue to make these premium Enermax power supplies a tough sell.