Enermax has launched revised versions of its three popular mainstream PSU lines, the Modu82+, Pro82+ and LibertyECO.
The power supplies, relaunched as the Modu82+ II, Pro82+ II and LibertyECO II and available in capacities ranging from 400W to 720W, have been given a handful of new features that may appeal to the gaming crowd.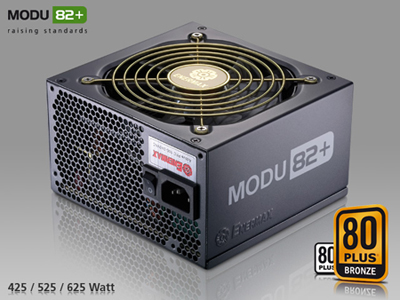 In anticipation of upcoming, power-hungry DirectX 11 graphics cards, all three new product lines have been dubbed "DXXI ready" as a result of Enermax changing every 6-pin PCIe connector to a 6+2-pin connector. All 400+ Enermax PSUs will feature at least two 6+2-pin PCIe connectors, says the company.
Another useful gamer-orientated feature is CordGuard - a patented metal clip that clamps the power cord to the PSU, preventing annoyed gamers from yanking the cord during a LAN session. Rounding off the new feature list is HeatGuard - a feature taken from the high-end Revolution line that ensures the PSU fan keeps running for 30-60 seconds after shut down - and an extended 12V power cable that should make it easier to bottom-mount Enermax PSUs.
All handy features to have, but you want to know more about that freebie, don't you? As part of its 20-year anniversary celebration, Enermax will be bundling a free 12cm Twister case fan with every PSU from the Modu82+ II, Pro82+ II and LibertyECO II lines. All three series should be hitting stores at any moment now.