Loading...
Been waiting a while?
Get Flash
to see this player.
High performance memory specialists G.SKILL have decided to step beyond the RAM and flash storage market and introduce further complimentary products for PC gamers. At Computex this year the firm has proudly been showcasing Mechanical Gaming Keyboards, Gaming Mice, Headsets, a range of PSUs and, of course, a new range of high performance PC memory. All the new products are part of the Ripjaws range, except the 'Trident Z' memory.
G.SKILL Ripjaws keyboards and mice
G.SKILL has two mechanical gaming keyboards to mark its first steps into this field. The KM780 RGB and KM780 MX offer RGB lighting and crimson red lighting, respectively. Key mechanisms are based upon your choice of Cherry MX Red and Brown key switches.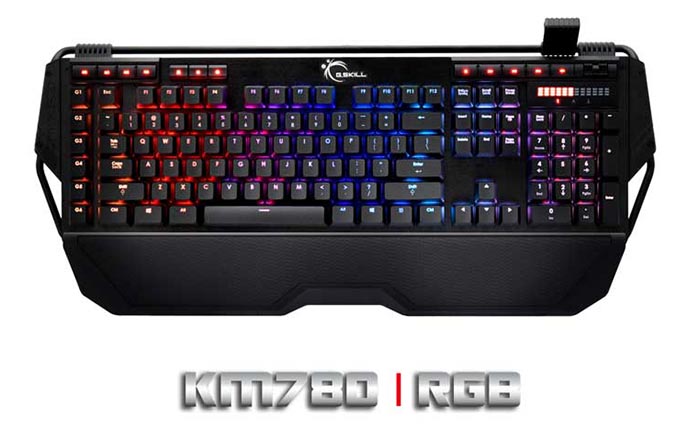 These keyboards are said to be built for durability and practicality but also include gaming orientated features such as three mode hotkeys, six dedicated macro keys and lighting patterns. The onboard memory and software supplied let you adjust per-key lighting, macro setup, timer setting, key delay and repeat rate, polling rate, and various other settings. Each keyboard connects to your PC via a 2m braided cable.
G.SKILL's MX780 RGB Gaming Mouse features a height adjustable palm rest and interchangeable side grips. On its underside it employs gaming grade PTFE glide pads. From its name you could guess it offers RGB LED lighting, this is employed across four mouse zones and to indicate the DPI tracking speed of the rodent.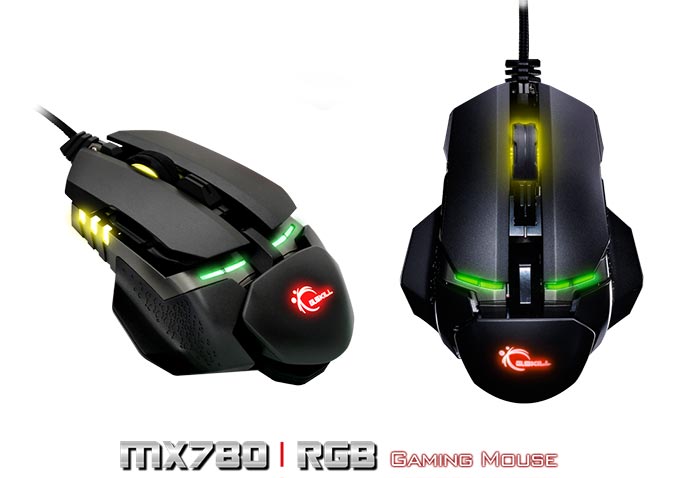 Inside the gaming mouse benefits from similar technology to other class leading gaming mice such as a 32-bit ARM processor, gaming-grade Avago laser sensor, and Omron micro-switches. The mouse is capable of a 1000Hz polling rate, 8200 dpi, tracking up to 150ips, and 30g of acceleration. Software allows the user to store five profiles for lighting and button macros/assignments.
G.SKILL Ripjaws SR910 / SV710 7.1 Surround Digital Gaming Headset
G.SKILL's Ripjaws SR910 headset includes 10 audio drivers and graces your ears with real 7.1 surround sound. Meanwhile the Ripjaws SV710 with 50mm drivers provides virtual 7.1 surround sound powered by Dolby Pro Logic IIx. Headet earcups benefit from a circumaural design and are leatherette lined for comfort. High precision positional audio is provided to wearers thanks to Xear 3D technology.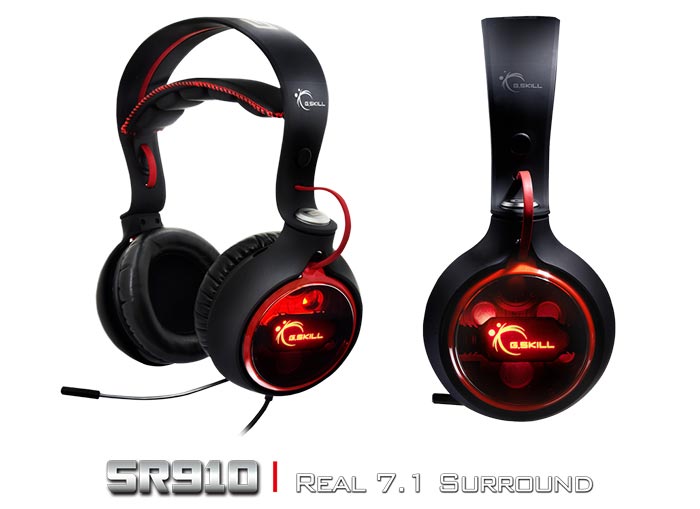 The microphone fitted to the headsets includes built-in ENC (environmental noise cancellation). Headset audio can be quickly adjusted via an in-line control or in the software suite that provides a 10-band equalizer and customizable surround sound speaker positioning.
All the G.SKILL Ripjaws series gaming gear mentioned above will be available in Q3 2015. Pricing will be announced soon.
G.SKILL Ripjaws Power Supplies
The four new modular power supplies from G.SKILL are aimed at high-end workstation or gaming oriented systems. G.SKILL is introducing models offering four PSUs in all, from 750 watts to 1200 watts, which are either gold or platinum efficiency rated.
Ripjaws PS750G/PS850G models are certified to 80 PLUS Gold and rated for 90 per cent efficiency. Ripjaws PS850P/PS1250P models are certified to 80 PLUS Platinum and rated for 92 per cent efficiency. Protections such as OVP, UVP, OCP, OPP, SCP, OTP are present.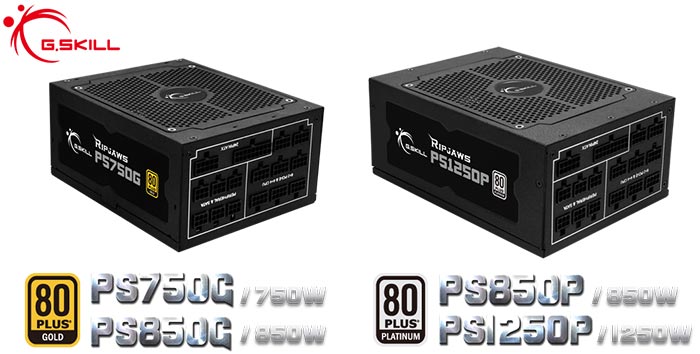 G.SKILL is eager to point out that its first range of PSUs is constructed "from the highest-quality materials possible, such as 100% Japanese-made capacitors, for higher reliability and longer lasting lifetime". Users who aim for silent computing might be happy to hear that the new range includes automated G.SKILL ECO Optimized (GEO) Thermal Fan Control to produce zero fan noise during low load operations.
We don't have any availability or pricing details for these PSUs at this time.

G.SKILL Trident Z series DDR4 memory
These new memory modules build on the Trident X module designs popular with overclockers. Trident Z modules feature high quality aluminium heatspreaders and a top bar available in various colours. Quad and dual-channel kits will start to become available next month. More detailed specs will be published shortly.