Apple introduced its third generation butterfly mechanism keyboards in the summer of 2018, as standard equipment on its latest MacBook Pro models. During the launch presentations Apple boasted of its latest refinement of the butterfly keyboard being four times more stable than a scissor mechanism, and now featuring a quieter switch for calmer working environments.
Well known tech teardown site iFixit, considered Apple's 'quieter' proposition to be just marketing spin, as it found that Apple had inserted a membrane under its butterfly switches (v3) in order to keep crumbs and similar detritus out of the mechanism. Even though Apple had previously patented this membrane tech to "prevent and/or alleviate contaminant ingress," Apple told The Verge that "this new third-generation keyboard wasn't designed to solve those [dust] issues."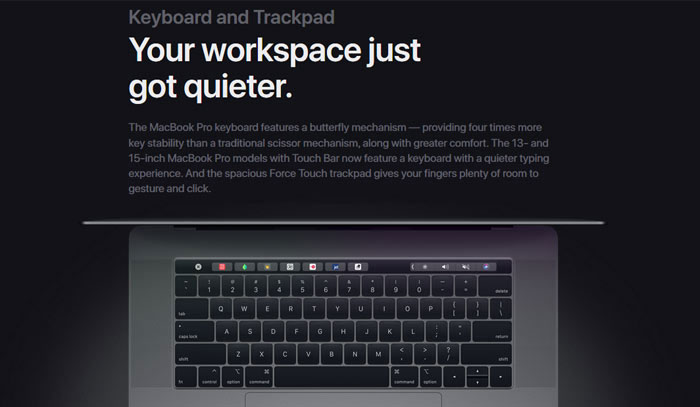 Yesterday an article about a user's experience with one of these newest Apple laptop keyboards was published by the widely respected Wall Street Journal. Writer, Joanna Stern, wanted to illustrate to readers the 'pain' of owning a laptop where, as in her case, the letters 'E' and 'R' don't work properly. With butterfly keyboards the most common faults are that either letters don't appear when typed due to a blocked actuation, or they double fire due to debris causing a sticky rebound. As a humorous illustration of the problem, Stern's article allows the reader to toggle the letter E and letter R, and even provides the option to insert double Es.
Stern admits that she bought Apple's new MacBook Air with the third-generation butterfly keyboard (for $1200+), and went on to recommend the machine. Now, after just four months of use, she is experiencing working on a laptop with a "failed" keyboard.
An apology of sorts has been garnered by the WSJ writer from Apple. "We are aware that a small number of users are having issues with their third-generation butterfly keyboard and for that we are sorry," an Apple spokesman said in a statement. "The vast majority of Mac notebook customers are having a positive experience with the new keyboard." The recommended course of action if a user is having keyboard issues is to simply contact Apple customer service. The first two iterations of the butterfly keyboard have got an extended warranty for up to four years service/replacement after purchasing.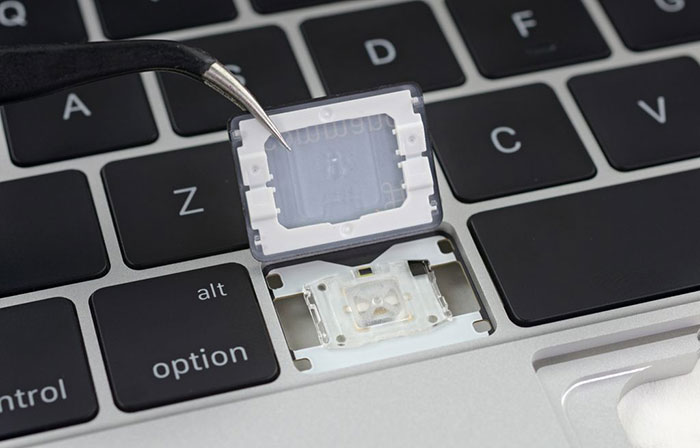 The WSJ's Stern reminds us that there is a proposed nationwide class-action suit that alleges Apple has been aware of the defective nature of these keyboards since 2015. However, they are still being sold as standard in the latest laptops.
In conclusion, the WSJ article suggests Apple should stop designing things with thinness prioritised over practical functionality. Stern reckons its "time to set the butterfly keyboard free".
If you want to read more on the Apple butterfly keyboard saga, iFixit has an update on the story too.