Acer has just wrapped up its Next @ Acer presentation at the IFA 2018 in Berlin. It showed off a number of interesting new devices: a refresh across its entire Aspire laptop and all-in-one PC portfolio; the new Swift 5 which is claimed to be the world's lightest 15-inch laptop; the Acer OJO 500 Windows Mixed reality headset; plus new monitors and gadgets joining the Acer Predator and Nitro stables, for example. However, for me two products stood out from the pack - the Predator Triton 900 Gaming Laptop, and the Predator Thronos gaming chair system.
Acer Predator Thronos gaming chair
Acer tells us a little about the Thronos in this press release but there is no product page at the time of writing. In summary, the Acer Predator Thronos is rather more than a chair; it is a steel structure 1.5m tall with an ergonomic gaming chair encapsulated in a 'cabin' with foot rest, up to 140 degree tilt, an overhead brace for up to 3x 27-inch gaming monitors, plus room for a Predator gaming PC, accessories, and gadgets. Nicely the structure includes "deep impact vibration" providing haptic feedback from the games you are playing.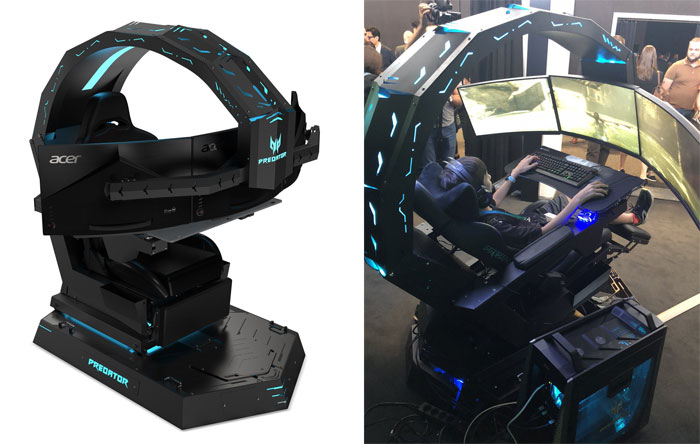 Acer showed off this gaming chair system (presentation, 50 minutes in) but didn't share pricing or availability information at IFA 2018.
Predator Triton 900 gaming laptop
The new Predator Triton 900 retains the styling of past Acer gaming laptops but comes with a new twist. It is designed as a convertible or 2-in-1 device with the screen being able to pivot and flip thanks to a swing-frame hinge. The last time I remember writing about a similarly constructed laptop from Acer was with the Acer R14 Series back in 2014 (IFA 2014).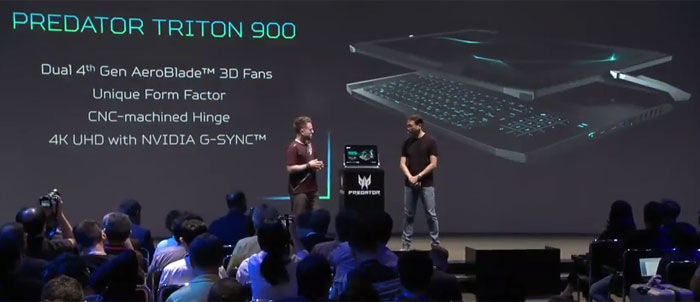 At the time of writing Acer is yet to share a press release or publish a product page for the Triton 900, so I only have the information from the presentation (46 minutes into this video). What we know is that the new convertible gaming laptop features a 4K touchscreen with Nvidia G-Sync, AeorBlade 3D fan cooling system, low profile RGB LED backlit mechanical keyboard, and a switchable numpad/trackpad. We don't know the tech specs of this device so the choice of CPU and GPU, for example are not certain, except it will definitely be an Nvidia GPU to match the display.