Dell has published a video showing off a new USB Type-C mobile adaptor. The new puck-shaped device is described as a 6-in-1 adapter and it bristles with connectors for video, data and LAN connections. Handily the puck shape lends itself to a spool-like self-contained USB Type-C connector cable with reels out, and tidily back away for transport.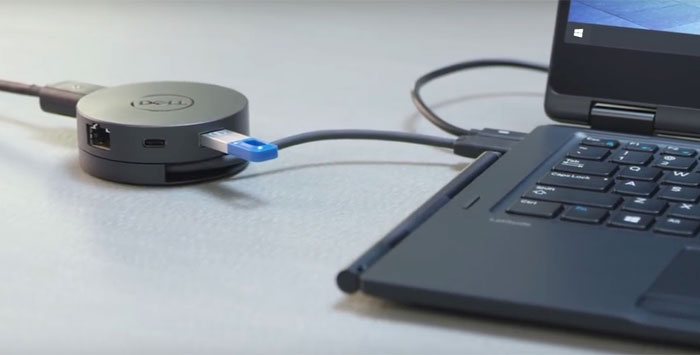 The Dell DA300 USB-C mobile adaptor has yet to appear on its own product page but it can be seen, with a brief description on the New XPS 13 product pages, for which it is heralded as an ideal accessory for connecting "multiple devices–displays, printers, projectors and Ethernet".
Since the product page is yet to go live I had to skip and pause the video to determine what exactly the 6-in-1 offers are. To me it looks like the Dell DA300 offers the following ports:
HDMI Video
VGA video
DisplayPort video
USB 3.0
USB-C
RJ45 LAN

Dell asserts that no additional drivers are required to make use of all the DA300 USB-C mobile adaptor ports. Furthermore, the device is compatible with all major operating systems, says Dell. On the capability of the extra conenctor ports supplied by the DA300, Dell says that up to 4K video and SuperSpeed 10Gbps USB data can be utilised by your computer connected via the DA300.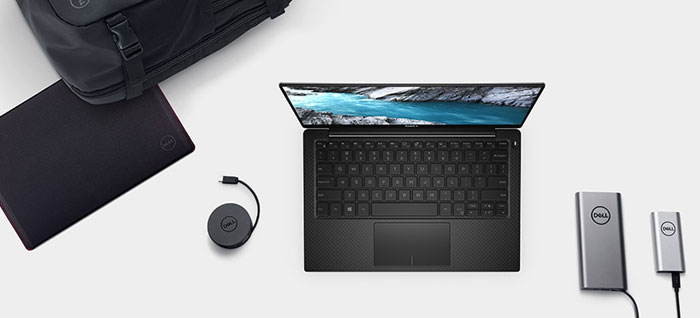 Other features, with an eye on business users, include:
MAC address pass-through
PXE boot
Wake-on-LAN
All in all the Dell DA300 looks like a worthy upgrade to the DA200 4-in-1 adapter currently retailing for $65.
New Dell Ultrathin Monitors
In other Dell news today, the firm has introduced its new Ultrathin S2719DM and S2419HM monitors. They offer impressive brightness levels and HDR playback capability. Again there is a video available, but searching Dell.com didn't unearth any product pages at the time of writing. You can have a peek at the video below, for product highlights, while Dell's web designers are busy creating the product pages.