Intel has detailed its plans for 5G communications solutions at MWC. The chipmaker announced a new 5G mobile trial platform for faster prototyping, and it announced partnerships with leading communications firms such as Ericsson, KT, LG Electronics, Nokia, SK Telecom and Verizon. Rounding off its presentation Intel also revealed a range of new modems and SoCs which will provide advanced connectivity to PCs, mobile devices, and the IoT.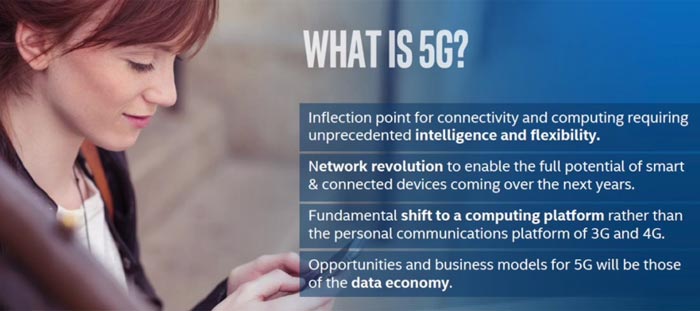 "The transition to 5G brings communications and computing together and is a fundamental shift for the industry. It is essential to lay the foundation for future 5G networks now to make amazing experiences of the future possible," said Aicha Evans, corporate VP and GM of the Intel Communication and Devices Group. 5G enabled devices will facilitate data-rich personalised services and better performing cloud applications.

As mentioned in the intro, some very big communications players are working alongside Intel in developing 5G. In particular SK Telecom and Verizon are working with Intel on 5G mobile and network solutions as successors to today's 4G cellular networks - as you might expect. Nokia is working with Intel on 5G infrastructure as well as interoperability of 5G radio technologies.Ericsson and KT are working together with Intel on 5G trials, network platforms and standardisation. Last but not least LG Electronics is developing 5G technology for next-generation automobiles with Intel.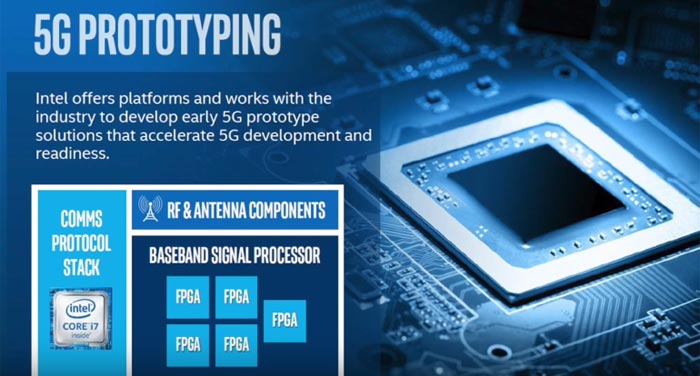 New modems and SoCs for IoT and mobile device connectivity
The final part of Intel's MWC presentation detailed the new wireless networking hardware it is making available for smartphones, phablets, PCs and IoT devices. For the IoT Intel is introducing no less than five new products; four modems and an Atom SoC. Of the modems one is among the first to support Narrowband IOT (NB-IOT) and another is the world's smallest standalone 3G modem. The only SoC, the Atom x3-M7272 delivers an all in one solution with communications plus the power to support advanced features like firewalling and packet inspection - it is thought it will be popular with auto makers.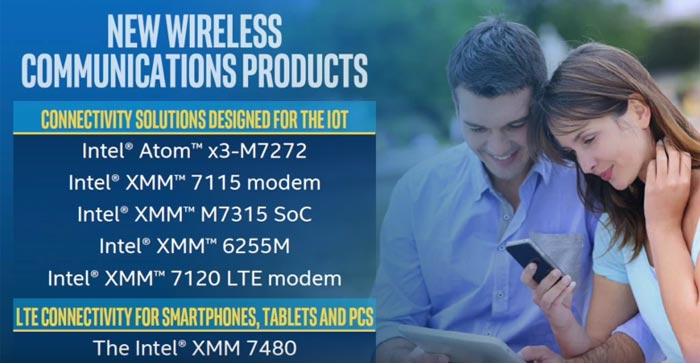 For LTE connectivity in smartphones, tablets and PCs – the power efficient, high performance Intel XMM 7480 supports more than 33 LTE bands simultaneously in a single SKU, as well as 4x carrier aggregation across TDD and FDD spectrum. Intel say that this modem will enable compute-intensive experiences such as multiplayer gaming and virtual reality with seamless LTE Advanced connectivity and peak download speeds up to 450 Mbps. Intel XMM 7480 sampling will begin in H2 2016.