Thecus debuts versatile NAS



We've been generally impressed with the quality of Thecus' data-storage products. Its network-attached storage (NAS) SKUs, in particular, have gained approval from the world's media, and we took a brief look at the N5200 during our comprehensive CeBIT coverage. That's why we trotted over to Hall 3 to see what new, exciting products Thecus was showcasing at Computex 2006.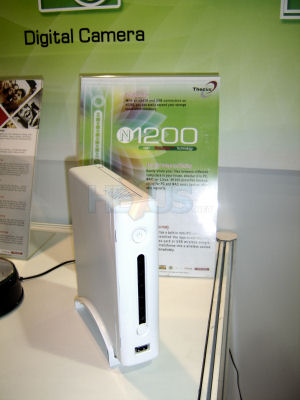 The newest addition to the RouStor family, the N1200. It's a one-drive PC/MAC/Linux-friendly NAS solution that features a 4-port switch for hard-wired file sharing as well as plug-and-play eSATA and USB interfaces. Thecus includes its time-scheduled download manager that supports BitTorrent, FTP and HTTP transfers. The box o' wonders also includes a mini-PCI slot, much like any laptop, for integrated WiFi (compliant card purchased separately). The N1200 also supports drive backup, too.

We'd strap in a Seagate Barracuda 7200.10 750GB drive in one of these and use it as the ultimate download tool. The Thecus N1200 is scheduled to launch in the UK in the next couple of months, and we'll be reviewing it in the not-too-distant future. Keep your eyes peeled for this genuinely useful bit of kit.