DrayTek has today expanded its line of award-winning routers with the introduction of the Vigor 2850.
Launched as the manufacturer's flagship solution, the Vigor 2850 carries many of the features of its predecessor - the Vigor 2830 - but adds support for VDSL services such as BT Infinity.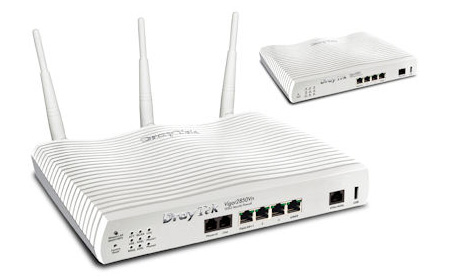 Aimed at demanding business environments (or home users/gamers who see dropouts as a matter of life and death), the Vigor 2850 has the ability to operate on both ADSL and VDSL lines simultaneously, with the option to have one act as a backup for the other.
There's a four-port Gigabit switch integrated as standard, with the fourth LAN port functioning as a WAN interface in dual-WAN mode, and the router supports the latest Internet Protocol, IPv6.
Factor in DrayTek's third-generation object-based firewall, a wealth of administration utilities - including dual-login for users and administrators - multiple private LAN subnets and dual-band Wi-Fi, and you've got a router that's about as comprehensive as they come.
A full breakdown of features is available over at the official Vigor 2850 product page, but if you were sold at the mere mention of DrayTek, you can already purchase the router at a cost of roughly £200.