When it comes to ADSL networking, DrayTek's line of Vigor routers are commonly referred to as the bee's knees.
There's still room for improvement, though, and to that end the manufacturer is today unveiling a new flagship model; the Vigor 2830 Series.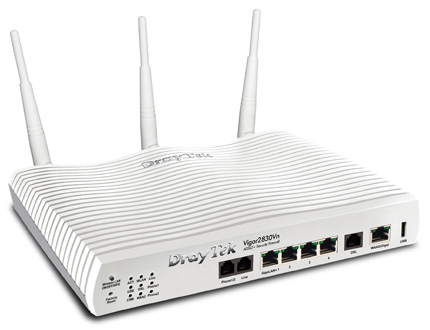 Introduced as a feature-packed compliment to the award-winning Vigor 2820, DrayTek's upgraded model crams in a few high-end features befitting the £185 entry fee.
The most-basic Vigor 2830 now provides four Gigabit Ethernet LAN ports (up from one on the existing Vigor 2820), while the Wi-Fi (Vigor 2830n) and VoIP (Vigor 2830Vn) models introduce switchable Dual-Band Wi-Fi.
There doesn't appear to be an option for simultaneous Dual Band Wi-Fi on both the 2.4GHz and 5GHz bands, it's either one or the other, but the ADSL router does provide a comprehensive range of business features. These include support for multiple private subnets, the latest version of DrayTek's object-based firewall, and the ability to use three simultaneous WAN connections. In addition to the built-in ADSL router, a WAN2 Ethernet port and a WAN3 USB port can be used to add a second Gigabit connection and a 3G modem for backup or load balancing.
A complete specification is available over at DrayTek's official product page, but if you're ready to take the plunge, broadbandbuyer.co.uk has the Vigor 2830, 2830n and 2830Vn all up for pre-order.