The UK has a new broadband ISP offering products aimed specifically at gamers. Ghost Gamer Broadband are now taking orders for the "ultimate multiplayer and Pro standard gamer broadband," starting at £28.99 (ADSL, up to 10Mbps), through £43.99 (Fibre, up to 80Mbps) up to £44.99 pcm (FTTP/GFast, up to 330Mbps). Whichever you choose from you will benefit from "low ping rates and minimal latency," plus a fixed IP, and the promise of no throttling, no network traffic management, and with truly unlimited downloads.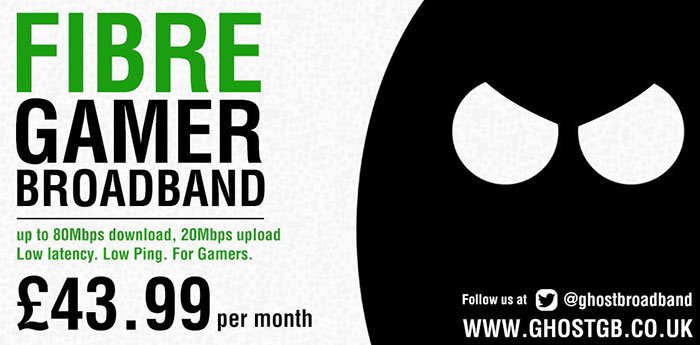 In a statement reproduced by ISP Review, Chris Dale, MD of Ghost Gamer Broadband, said "The internet plays an increasingly vital part in our everyday lives, yet the quality of the broadband entering our homes is often overlooked. This just leads to frustration". Dale went on to assert that a stable and fast connection, "which maintains its quality during peak times is essential for online gaming".
What about the technology behind Ghost Gamer Broadband which is straplined as being "For Gamers, By Gamers"? Mark Jackson at ISP Review observes that there are "plenty of other providers that could make the same sort of claims as GBB (AAISP, iDNET, Zen Internet etc.), albeit without specifically advertising themselves as being designed for multiplayer gamers". Only one chart is provided by Ghost Gamer Broadband for comparison's sake, and the comparison ISP isn't indicated.

In summary, Ghost Gamer Broadband might perform well for you as a gamer but it won't necessarily be better than rivals that aren't designed "For Gamers, By Gamers" (Razer might be interested in this strapline). Business ISP Structured Communications is behind Ghost Gamer Broadband. Last but not least, it seems like the headlining pricing doesn't include line rental - an extra £10pcm.
Or perhaps get a Leetline?
Ghost Gamer Broadband isn't the first dedicated gaming ISP in the UK. In May this year business ISP Trunk Networks launched Leetline, which was heralded in much the same fashion as GGB, as offering "low latency, high bandwidth internet connectivity," for optimal online gaming pleasure. Its pricing starts at £40pcm including phone line rental for an FTTC 40:10 connection.