Confusing network setups no longer a problem?
Though Edimax might not quite be a household name in the UK, it has been providing network solutions since 1986, and at its CeBIT 2008 press conference, Thomas Chu, global marketing director, highlighted Edimax's ambition to further enhance its global presence.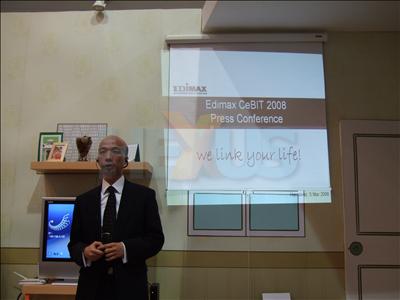 For 2008, Edimax says it has listened to its customers and the result is its IP-Free setup. So, what is IP-Free? Well, it's exactly what it says - a network setup without the need for remembering numbers such as 192.168.0 and so on. It's designed to simply achieve hassle-free connections and make home networking easy for the inexperienced user.
Here's where EZView comes in, which is Edimax's simple configuration page that provides an 'easy view' of all the settings your everyday user might require.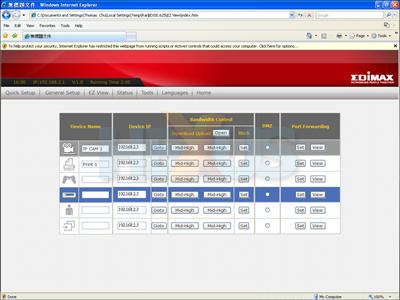 As illustrated by the above picture, a user can easily enter a memorable device name for any network-attached device to save memorising awkward IP addresses. Furthermore, when accessing these devices, just the device name can be entered into your browser's address bar. Want to access IP Cam 1? No need to type or remember 192.168.2.3 - just put IPCam1 into your address bar and hey presto.
Other useful settings on the EZView admin page include DMZ and port forwarding. Whilst EZView isn't mind-blowing by any means, users of current Edimax devices will be well aware of the largely lacklustre interfaces currently present. During Edimax's CeBIT press conference, EZView was touted as just the beginning for improved interfaces, navigation and user experiences - even Edimax's retail boxes are being given an overhaul to make them more consumer-friendly.
Unfortunately, IP-Free isn't without its drawbacks. Assigning a device name can only (at present) be achieved on other Edimax hardware. Thomas Chu acknowledged that although devices from other manufacturers will continue to work as normal, you'll have a hard time renaming them for an IP-Free setup. Edimax is hoping to overcome the problem but says it'll need important data from other hardware manufacturers in order to make it happen, and that sounds highly doubtful to us.