Asus is getting to be a very popular brand for those who choose to replace the routers provided for 'free' from their ISPs. To keep its products at the cutting edge of technology and desirability Asus must keep up to date with supporting the latest standards, which invariably bring faster speeds to the end user. The new Asus DSL-AC88U does just this by supporting the latest G.fast standard. Furthermore, Asus claims this is its fastest ever modem router, thanks to its advanced Broadcom NitroQAM technology.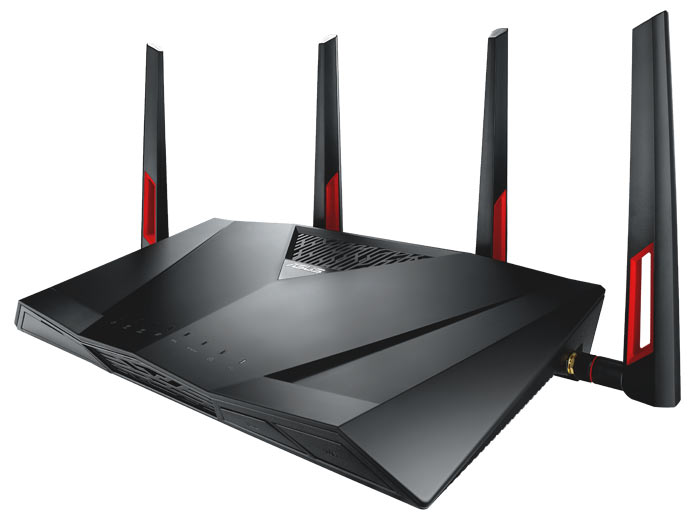 As mentioned above, the DSL-AC88U supports the latest G.fast standard (as well as ADSL, ADSL2/2+ and VDSL2 services). G.fast lives up to its name by enabling broadband speeds of up to 18x greater speeds than VDSL2 services can muster.

If you don't need its modem functionality you can connect the DSL-AC88U via Ethernet to your existing fibre - or cable-modem service (for example). Last but not least, a USB port on the front of the modem router can provide 3G/4G network support - good as a backup if your wired broadband goes down.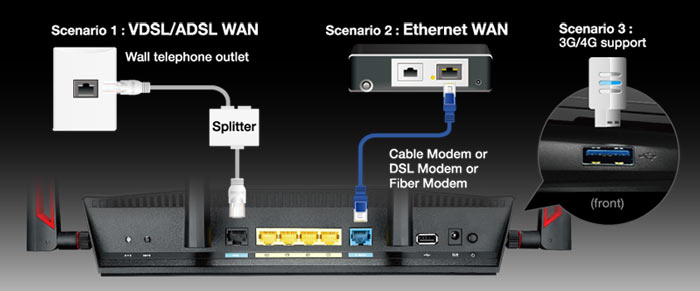 Broadcom NitroQAM (1024-QAM) technology works to boost max Wi-Fi transmission speeds on both the 5GHz and 2.4GHz frequency bands. This tech can provide a 25 per cent uplift in performance compared with other four-stream (4x4) MIMO designs, claims Asus. Examples of 5GHz speeds being improved from 1734Mbps to 2167Mbps, and 2.4GHz speeds being boosted from 800Mbps to 1000Mbps, are cited. NitroQAM helps make the most of your connection for minimising lag, latency, and buffering.

Asus has equipped the DSL-AC88U with easy to use parental controls. Parents or admins can use filters to block sites or apps. Scheduling functionality can automatically restrict device connections to the internet based upon time rules.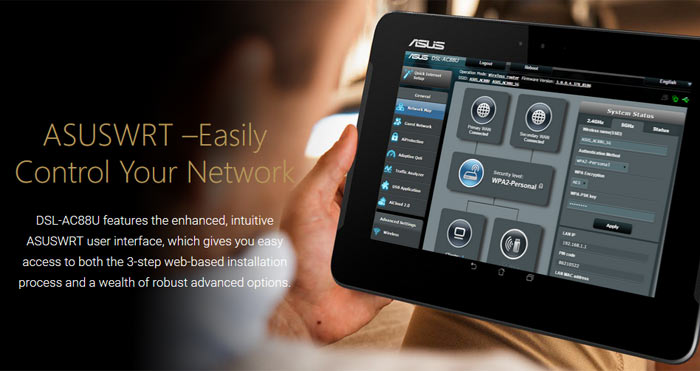 If the Asus DSL-AC88U tickles your fancy you might be happy to know it will be available in the UK from the first week in March. Various leading retailers will stock this modem router and the SRP has been set at £219.99.



SPECIFICATIONS of the ASUS DSL-AC88U

Wi-Fi

Network standards: IEEE 802.11a/b/g/n/ac, IPv4, IPv6.

Concurrent dual-band 2.4GHz and 5GHz

802.11ac (5GHz): up to 1734Mbit/s

1024QAM (5GHz): up to 2167Mbit/s

802.11n : up to 800Mbit/s

1024QAM (2.4GHz): up to 1000Mbit/s

Wi-Fi features

MIMO technology:

2.4GHz 4 x 4

5GHz 4 x 4

DSL compatibility

G.fast, ADSL, ADSL2/2+, VDSL2, Vplus (35b)

Memory

128MB Flash / 512MB RAM

Ports

1 x RJ11 DSL

1 x 10/100/1000Mbit/s WAN

4 x 10/100/1000Mbit/s Ethernet LAN

1 x USB 3.0

1 x USB 2.0

Antennas

4 x external detachable antennas (4x4 MIMO)

Management

ASUSWRT web-based admin console

Utilities: Router setup wizard; Firmware restoration; Device discovery; Printer setup utility

Firewall & Access Control

Access control: Parental controls, Network service filter, URL filter, Port filter

Features

Link Aggregation, Smart Connect, Traffic Analyzer, Adaptive QoS, Parental Control, Guest Network, VPN server, VPN client, Roaming Assist

Additional features

ASUS AiCloud personal cloud service

3G/4G data sharing

Weight

950g