Samsung is at the Retail Asia Expo 2015 this week, at the Hong Kong Convention and Exhibition Centre. The South Korean electronics giant is showing off some "dazzling state-of-the-art" OLED displays it thinks might be particularly useful in retail environments. No, it's not more curved and bendy displays, but transparent and mirrored OLED displays on show this week.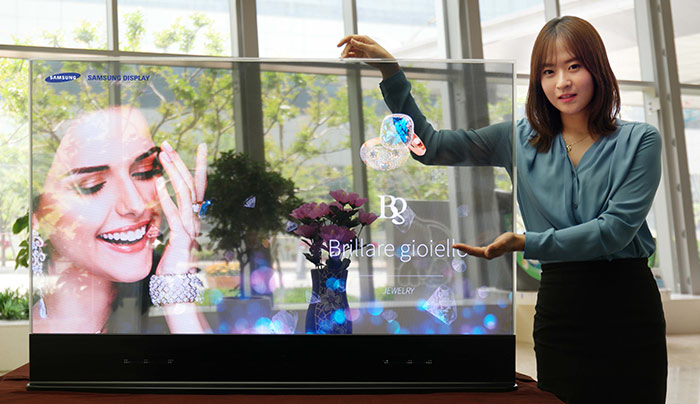 At the retail exhibition Samsung are pitching the use of the transparent and mirror displays in the retail environment. It says that when these displays are combined with an Intel Real Sense camera and the right software "a visually compelling, interactive closet or 'self-modeling' wardrobe is created that can enable consumers to virtually 'see' clothes or other retail items from an extremely realistic, customized perspective." The 'virtual fitting room' can be used for customers to see themselves wearing the items they are interested in buying, even if the item is out of stock. Department store Chow Sang Sang will be one of the first to trial the virtual fitting room system.
In another application of the its own and Intel's technology Samsung demonstrated what it calls the Automobile Real Sense Solution. This system uses the Transparent OLED displays to show pertinent information and cars with various optional extras and accessories included/omitted.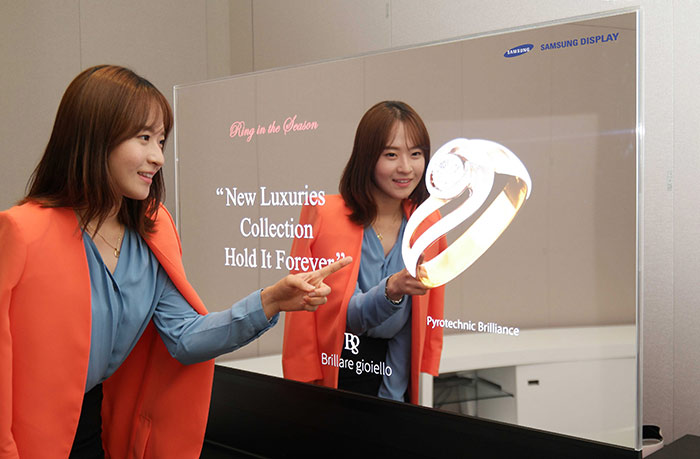 The Samsung Mirror OLED display offers greater than 75 percent reflectance level – that's at least 50 percent higher reflectance than competitive mirror LCDs says Samsung. It also offers a greater colour gamut, high contrast ratio and fast response time.
Samsung has managed to boost the image quality of its Transparent OLED display to similar heights. Compared to alternative LCDs its new monitor offers a substantially higher colour gamut, increased transmittance and better viewing angles. Competitor transparent LCD displays only offer around 10 per cent transparency levels, says Samsung, while this new Samsung OLED model boosts that figure fourfold.