Sharp has demonstrated a new 80-inch TV which offers a 'virtual' 8K resolution. The 80-inch Sharp Aquos 4K Next LC-80XU30 TV includes technology such as an RGBY panel and a Sharp X8-Master Engine PRO upscaling SoC. The end result is said to provide 8K upscaled Full HD and UHD content which is then displayed on the 4K UHD screen.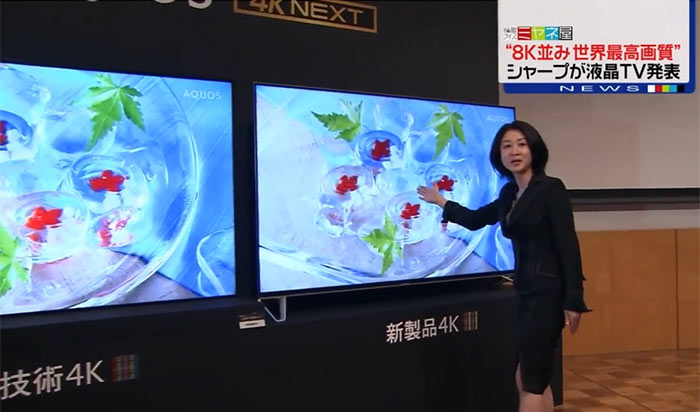 At the Tokyo press conference yesterday, where the TV was shown to the public for the first time, the new Aquos 4K Next LC-80XU30 was shown side-by-side with a conventional 80-inch 4K display. Tim Hornyak, from the IDG News Service, was at the event and reports that "the difference between the two wasn't clear at first glance". However after spending a little more time looking at the displayed scenes of traditional Japanese architecture, handicrafts and cuisine Hornyak concluded that the new display "featured super-saturated colours that had more pop".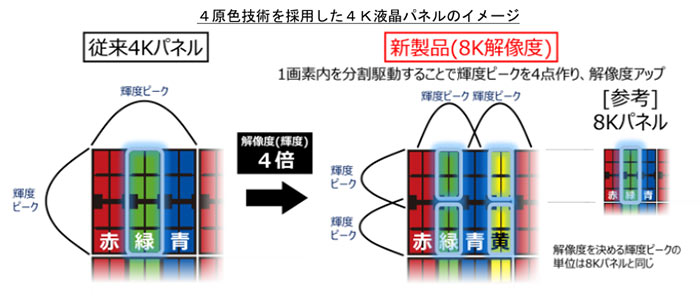 Sharp explains the technology behind the new Aquos TV, in its official press release, as dependent to two major technologies.
The first technology is the 'four primary colours' display panel. This display panel offers RGB pixels plus an additional Y subpixel. The Japanese firm has previously been known to call this technology "super-resolution technology". Sharp's new RGBY panel has the added benefit of increasing the colour gamut on offer. The realistic wide range of colours possible as shown on the display is further enhanced by an LED backlight which uses a new phosphor.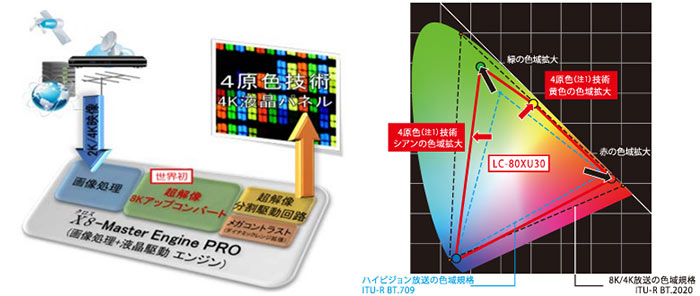 The second major ingredient to provide the eye-popping virtual 8K imagery is Sharp's X8-Master Engine PRO. Not much information is provided about this SoC but it is probably similar to AMD's VSR (virtual super resolution) and Nvidia's DSR (dynamic super resolution) supersampling antialiasing technologies.
Sharp's Aquos 4K Next LC-80XU30 TV will go on sale in Japan in July priced at around $13,000. The initial run is rather small, consisting of just 200 TV sets.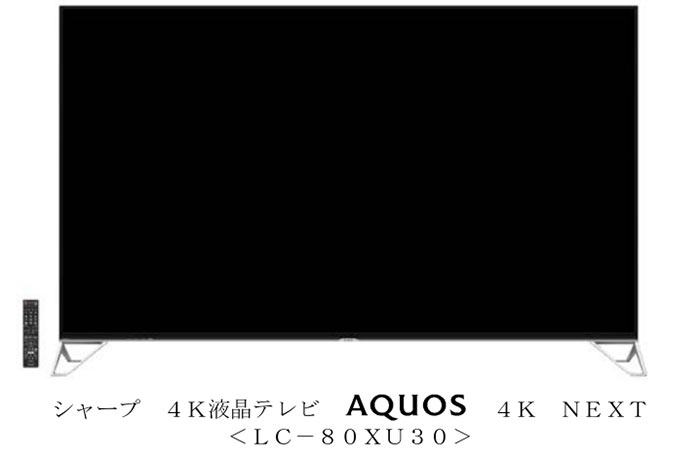 While Sharp offers innovative and sometimes groundbreaking technology directly to consumers and as a parts manufacturer its business isn't running that smoothly right now. PC World reports that only last week it announced a US$1.7 billion bailout from banks after a string of quarterly losses. It hopes to move to profitability thanks to the growing use of its displays in automobiles.