Hewlett Packard has debuted an impressive new range of monitors at CES 2015. The new displays on show include an interesting Virtual reality display, some 4K and 5K resolution displays and the firm's first curved displays. Jun Kim, vice president and general manager, PC displays and accessories at HP, said that the new displays aim to "maximize the visual experience and change the way people work and create".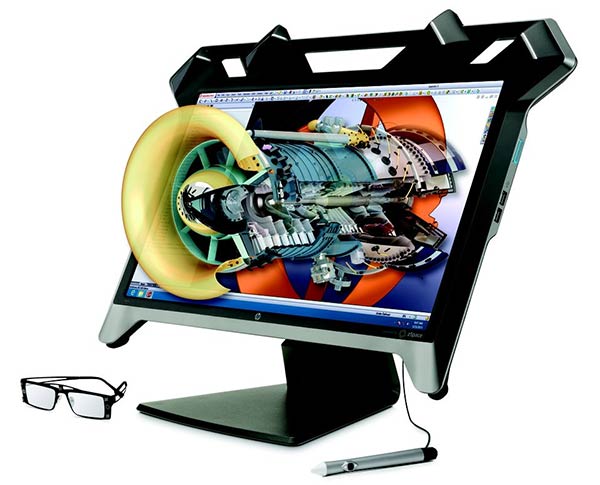 HP Zvr display
The HP Zvr is a so-called virtual reality display. It has a TN screen of 23.6-inches diagonal and a resolution of 1920 x 1080 pixels. This screen offers what HP calls 'True Holographic Viewing,' allowing users to view and manipulate 3D animated objects in real-time, reports Venture Beat. In the picture of the display, above, you can see the passive 3D glasses and stylus with which you manipulate on screen objects. Four IR cameras atop of the monitor frame track your head motions to help with the blended reality effect presented by the Zvr monitor.
HP Zvr monitors will be used, it is expected, by 3D prototype printers to more accurately check things before they are output. It is also envisioned as a new tool for creatives and engineers offering more natural expression and interaction, similar to the traditional manipulations of objects available in the physical world.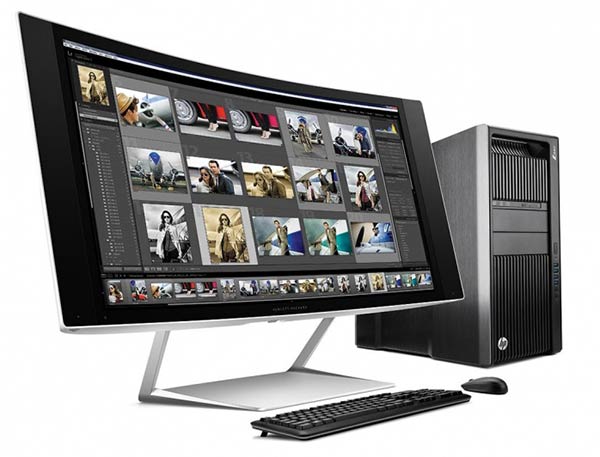 HP ENVY 34c, HP Pavilion 27c Curved Displays
The HP ENVY 34c is a 34-inch curved display with a 3440 x 1440 pixel resolution with a wide 21:9 aspect ratio. It offers dual HDMI (one is MHL) and a DisplayPort connector. It has built-in stereo speakers and is to be priced at $999, available from April.
The HP Pavilion 27c is a smaller 27-inch curved display which sports a more conventional 1920 x 1080 pixels resolution. It is available right away from $399. The curve provided by both of the new displays is said to offer a more immersive experience and more comfortable peripheral vision to users.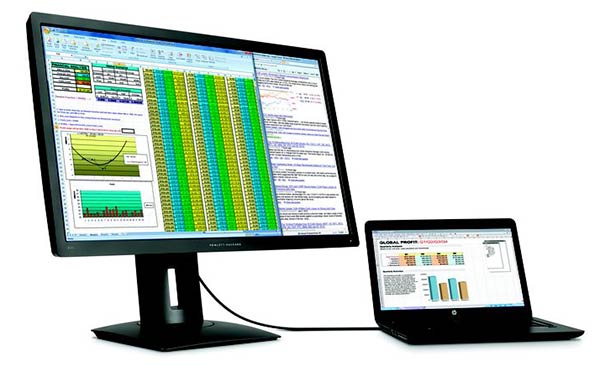 HP 4K and 5K displays
HP is introducing two new 4K displays called the Z24s and Z27s . As you might guess from the names these are 24-inch (23.8-inch) and 27-inch monitors respectively. They share the 4K resolution of 3840 x 2160 pixels. A flexible 4-way stand is provided with these displays so you can enjoy them ergonomically and in either landscape or portrait modes. Also in common are the DisplayPort, DVI, HDMI, Mini-DisplayPort, MHL and three USB 3.0 sockets. The Z24s will be available in April for $549 and the Z27s will be available later this month for $749.
The HP Z27q is a 5K monitor with 5120 × 2880 pixels in a 27-inch diagonal, pictured above next to an HP ZBook. The pixel density on offer is 218ppi. It offers 300 nits luminance, and 1.07 billion colours and four USB 3.0 ports. However HP hasn't provided further details about connection ports. Available from March, the Z97q will be priced at $1299.