Club 3D has launched a range of USB 3.0 graphics adaptors including the world's first to be capable of outputting 4K or Ultra High Definition resolution at 3840 x 2160p. The adaptors are part of the company's Sensevision range which has proved to be popular among frequent travellers and in (semi) professional environments. All the adaptors are fully DisplayLink 'Plug and Display' certified.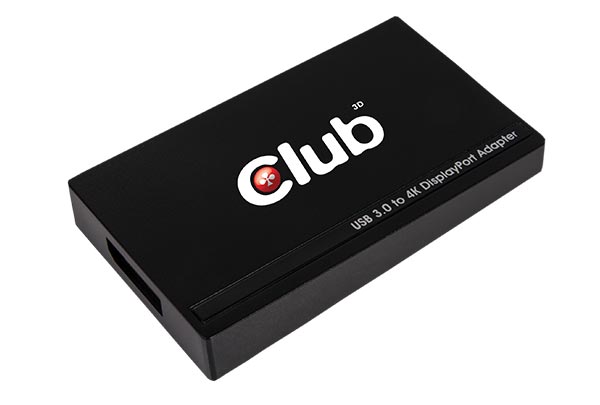 The headlining product in the new range is the Club 3D USB 3.0 to 4K Graphics Adapter (CSV-2302). This product uses Club 3D's newest SoC to propel pixels via your USB 3.0 port, enabling 4K Ultra High Definition output to DisplayPort enabled 4K monitors at a refresh rate of 30Hz. Club 3D told us that the new SoC in this display adapter is called the DisplayLink DL-5500. As well as enabling the use of a 4K display at its native resolution it is also backwards compatible with QHD and HD monitors via its DisplayPort 1.2 interface. Also you might be interested to know that the CSV-2302 features HDCP 2.0 for protected video playback and integrated DisplayPort audio.
Club 3D says that its USB 3.0 4K adapter uses very few system resources and once you have the driver installed you will be able to plug in monitors and they will work without any reboot needed. The CSV-2302 consumes just 370mA approx when in operation. It's quite a small device, measuring just 75 x 44 x 14 mm and weighing 50g (not including the adapter cable), so it's a good travelling companion for your Ultrabook, for example.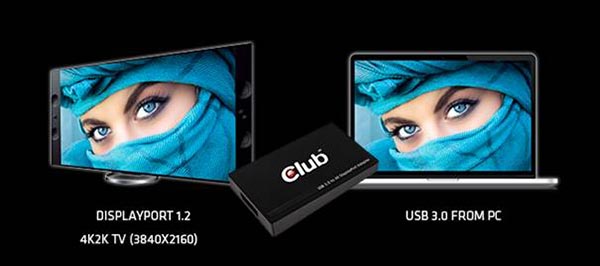 There are a wide range of multi-monitor setups you can use with this USB 3.0 adaptor. Club 3D says that its useful for the familiar Mirror Mode and Extended Mode type setups. However you can also use multiple adaptors to "connect up to 6 display devices to a computer without installing extra video cards," we are informed.
In the package you will find a Club 3D USB 3.0 to 4K DisplayPort adapter, CD driver, USB Cable, Instruction manual. Windows 7 or newer is required. We don't have details on pricing or availability at this time.
Club 3D also launched the CSV-2301 USB 3.0 to DisplayPort 1600p Graphics Adapter and the CSV-2300D USB 3.0 to DVI-I Graphics Adapter.