Japanese tech company Sharp has announced a new Free-Form Display technology. It says that its new technology could allow greater design freedom in consumer devices, allowing a wider variety of display shapes to match applications.
Breaking away from the conventional rectangular shaped displays, Sharp has come up with a new display type which is based on its IGZO technology and proprietary circuit design methods. Unlike conventional displays that have to be rectangular, as "they require a minimal width for the bezel in order to accommodate the drive circuit, called the gate driver, around the perimeter of the screen's display area," the Free-Form Display's gate driver function is spread over all the pixels in the display area.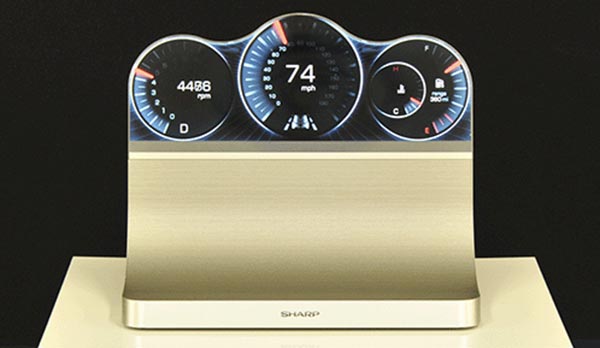 Sharp Free-Form Display prototype
What will Free-Form Displays be used for?
The new technology means that manufacturers can offer consumers displays which boast considerably slimmer profiles, thinner bezels and are light weight. Perhaps even more significantly, the technology will also bring freedom to the shape and design of the LCD to match the shape of the intended display area.
The benefits of Sharp's Free-Form Display could particularly influence future wearable technology, digital signage and in-vehicle applications. The smartwatch space is becoming increasingly popular for gadget developers and many companies are looking to manufacture differentiating and eye-catching designs and shapes. Sharp's tech goes well beyond curved screen smartphones such as LG's G Flex and Samsung's Galaxy Round.
The company says it "plans to enter the mass-production stage for the Free-Form Display at the earliest possible date." We are excited to find out if Sharp has already got a few partners under its belt with some plans for this display technology.