Philips has just launched a pair of new monitors into its B-Line consumer range. The new 241B7QUBHEB and 272B7QUBHEB IPS LCD monitors provide 24-inch FHD and 27-inch QHD visuals, respectively. So far, so ordinary, but Philips has written to HEXUS today to emphasise the attractiveness of the hybrid USB docking functionality on offer here. In addition to the USB Type-C dock and options that opens up these displays also offer more traditional HDMI and DisplayPort connections, and Windows Hello pop-up webcams.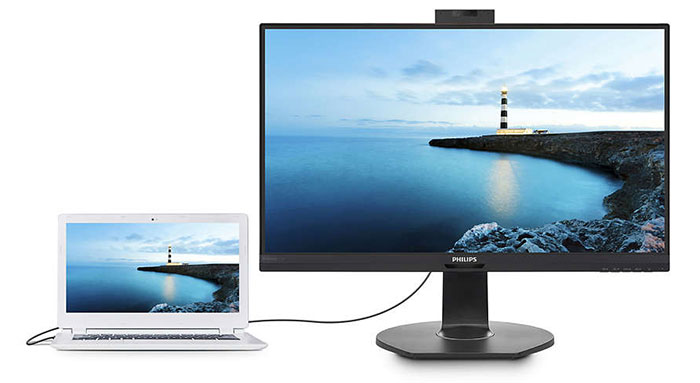 Discussing the appeal of the new 241B7QUBHEB and 272B7QUBHEB in the email, Philips highlights the utility value of these monitors to mobile workers who return to the office with their laptops. The built-in USB docking station is equipped with DisplayLink technology for single cable convenience to connect to monitors, networks, peripherals and input devices. The dock uses a single dual-mesh USB cable with both Type-C and Type-A connectors, says Philips. With these monitors it is simple of link together multiple displays, and transfer data at USB 3.2 SuperSpeed+ rates - even while powering and charging your laptop.

Both these monitors offer a DP 1.2, an HDMI 1.4, and a USB Type-C input connector - with DP Alt mode and up to 65W power delivery. The hub povides a DP video out, 4x USB 3.2 out with one being fast charge compatible, RJ45 Ethernet, a Sync input, Audio I/O, and DC power out (via side port, up to 19V, 65W).
For convenience the monitors also feature stereo (2W) speakers, a 2MP pop-up webcam with mic and LED indicator (which works with Windows Hello), Kensington lock, VESA mount options, and plug and Play compatibility with Windows 7 or newer and MacOS X. The supplied stand offers height (150mm), pivot (90 degrees), swivel (175 degrees), and tilt (-5/30 degrees) adjustability.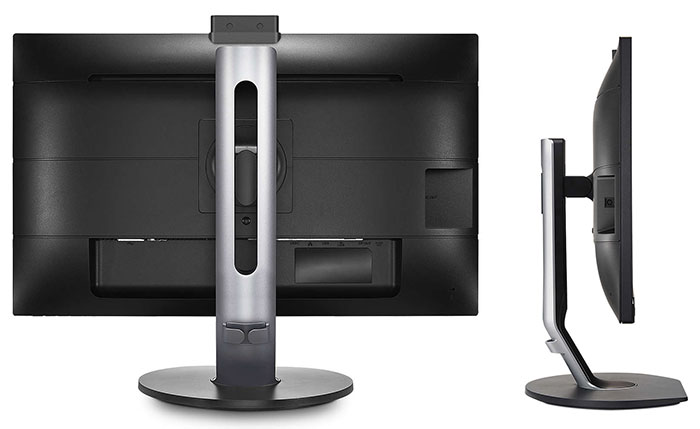 Turning to the quality of the images these monitors can provide, they both deliver a max 75Hz refresh, wide viewing angles, and 1000:1 contrast ratios, plus low blue light and flicker free modes. The 27-incher has better colour gamut coverage with 132 per cent sRGB, compared to the 102 per cent sRGB coverage of the 24-inch model. Furthermore, the 27-inch model offers a peak brightness of 350cd/m2, which is 100cd/m2 better than the smaller model.
Another interesting feature of these monitors is the PowerSensor, which checks for human presence and if the IR beam detects that no one is there it will reduce the brightness of the screen to cut power consumption by as much as 80 per cent. This feature prolongs monitor life too, says Philips.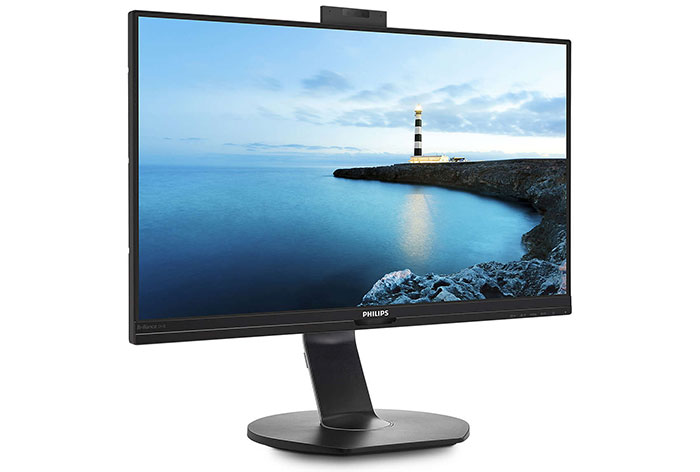 In its email to HEXUS, Philips said the "forward-thinking, productivity-boosting Philips 241B7QUBHEB and 272B7QUBHEB monitors are available at a RRP of £319 and £489 respectively". You can read more about either via the official product page links in the intro.