Philips has launched a pair of new monitors, both equipped with a USB Type-C docking station. It asserts that "USB-C is now rapidly becoming a standard requirement for business and power users alike," and the features it brings are indeed welcome. The functionality available thanks to USB Type-C on these monitors includes; video signal connection, power delivery (60W), multiple USB periperal connector ports, and an RJ-45 10/100/1000 Ethernet port.
Philips Brilliance Curved UltraWide 349P7FUBEB
As per the name, this is a 34-inch curved monitor, with a 1800R profile. It uses an MVA panel with WLED backlight and 3440 x 1440 pixels. In terms of performance the 349P7FUBEB is said to run at 60Hz at its native resolution. However I note that its vertical scanning frequency is given as a range from 40 - 102Hz and the monitor supports Adaptive Sync. Response time is 4ms GtG.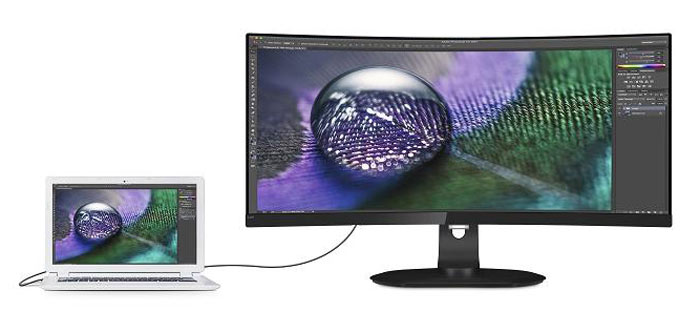 Image quality should be good, with quoted colour gamut figures as follows: NTSC 99.8 per cent, sRGB 117.3 per cent. Peak brightness is 300cd/m² and contrast ratio is 3000:1. Your eyes will be pleased with the flicker free and low blue modes.
Philips supplies a capable SmartErgo Base stand, with 180mm height adjustment plus decent swivel and tilt, however the display can be VESA mounted if you wish. As well as the USB Type-C input, there are more conventional DisplayPort 1.2 and HDMI 2.0 ports. Audio in and headphone out ports are present, as are 2x 5W speakers. The hub offers USB 3.0 x 3 (1 w/fast charging) ports.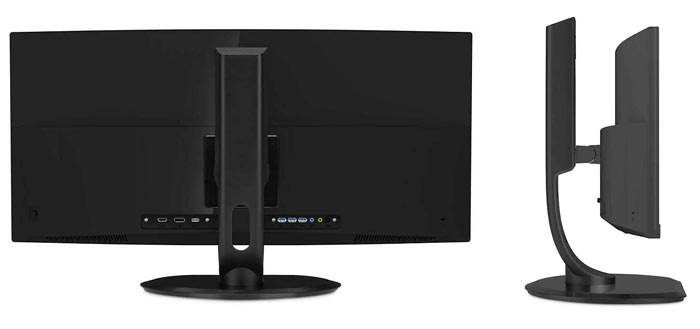 In its email to HEXUS, Philips said that the 349P7FUBEB will be available in July 2018 with an RRP of £749.
Philips B Line 272B7QUPBEB
This is a 27-inch flat screen monitor. Philips has equipped the 272B7QUPBEB with an IPS panel sporting the QHD resolution of 2560 x 1440 pixels. In terms of performance the monitor runs at 60Hz at its native resolution. Its maximum V-refresh is 76Hz but there is no mention of VRR tech in the specs. The screen has a 5ms response time GtG.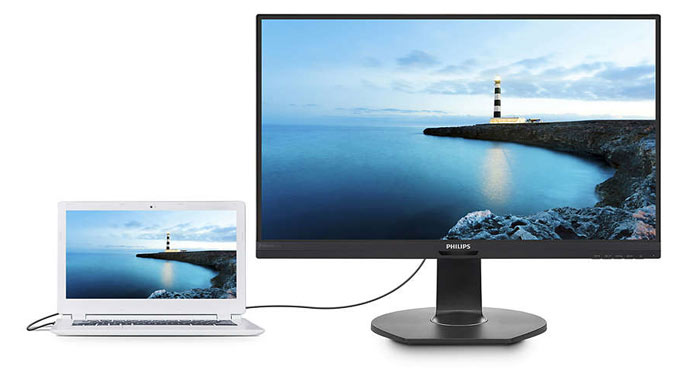 Users benefits from the wide viewing angles IPS is well known for and the anti-glare screen will help with readability. Wide colour gamut stats are: NTSC 114 per cent, sRGB 132 per cent. This screen has a peak brightness of 350cd/m² and contrast ratio of 1000:1. For eye health there is a low blue light mode.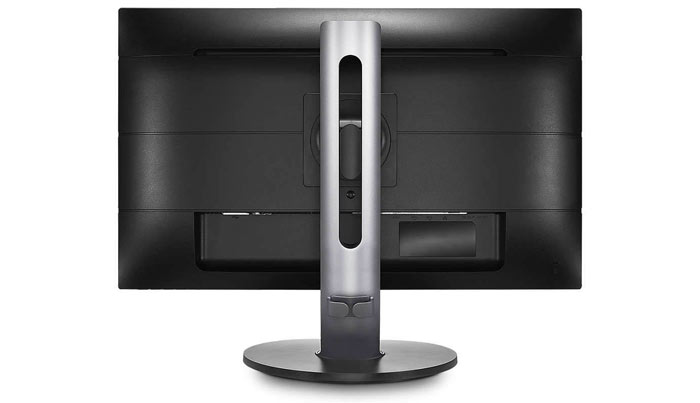 Again, the decent SmartErgo Base stand is supplied, with adjustments for height (150mm), swivel and tilt - but you can use your own VESA mount if you wish. In this case you can also pivot the display on its stand. The 272B7QUPBEB features the same docking and connectivity of the 349P7FUBEB, detailed above. One difference I not is that its speakers are a little less powerful (2x 3W).
The Philips 272B7QUPBEB will be available in July 2018 with an RRP of £399.