Asus is readying the ZenScreen MB16AC portable USB monitor for release after a rather long wait - it was unveiled at IFA 2016 last August. This 15.6-inch screen won a 2017 Red Dot Design Award a few weeks ago, and today Asus launched a new promotional video for this portable visual expansion device. Previous reports had signalled an April 2017 release.

If the idea of a portable second screen appeals to you then the Asus ZenScreen MB16AC is worth a look. It's a 15.6-inch full HD (1920 x 1080 pixels) IPS panel based device. Asus Zen devices are often pretty thin and this is no exception at 8mm. Improving its portability credentials is its weight of just 780g. Asus includes an ultra-thin 1mm foldable smart case with the screen, which provides screen protection and a further horizontal or vertical stand option.
The Asus ZenScreen MB16AC is fitted with a hybrid USB Type-C port that supports power and video transmission and it is compatible with laptops sporting USB Type Type-C or USB Type-A ports (USB 3.0). Power consumption is typically 8W or less and the ZenScreen doesn't have its own battery.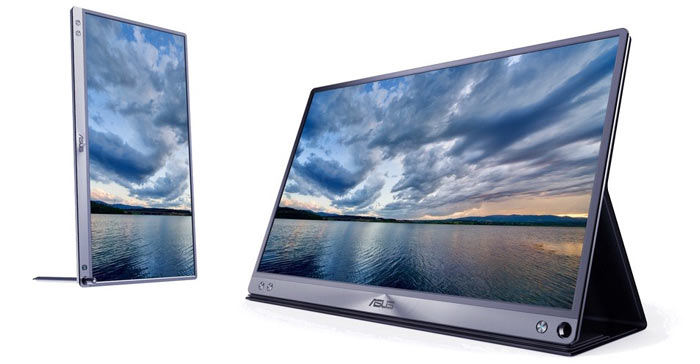 Asus ZenScreen MB16AC portable USB monitor specifications:
Panel Size: Wide Screen 15.6-inch (39.6cm) 16:9
Panel Type : IPS
True Resolution : 1920x1080
Display Viewing Area(HxV) : 344.16 x 193.59mm
Full HD 1080P : Yes
Display Surface: Glare
Pixel Pitch : 0.179mm
Brightness(Max) : 220 cd/㎡
Contrast Ratio (Max) : 800:1
SPLENDID Video Preset Modes : 8 Modes (sRGB Mode/Scenery Mode/Theater Mode/Standard Mode/Night View Mode/Game Mode/Reading Mode/Darkroom Mode)
Signal Input : USB Type-C (USB-C or USB3.0 signal)
QuickFit (modes) : Yes (Alignment Grid/Photo Modes)
GamePlus(modes) : Yes (Crosshair/Timer)
Low Blue Light : Yes (Blue Light Filter hotkey)
Auto-rotate : Yes, via Display Widget software installed on Windows
Pen prop-up design
Bezel of 6.5mm to three sides
Phys. Dimension (WxHxD):359.7 x 226.4 x 8.0 mm
Weight: 0.8kg
Accessories: ASUS Smart Case, DisplayPort over USB-C cable (USB-C to USB-C), USB Type-C to A adapter, ZenScreen pen, Quick start guide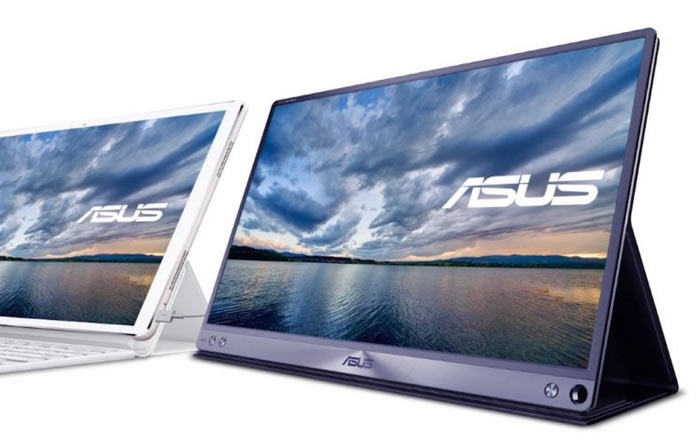 If you look at the embedded video you will see some users propping up the ZenScreen with the corner pen-hole rather than the free folding cover/case. Asus seems to imply that the ZenScreen is compatible with Windows and Mac laptops but not smartphones, for example. Last year at IFA, Asus suggested the ZenScreen MB16AC would come with a price tag of €269.