AMD is today lifting the lid on its next-generation display technology, FreeSync 2.
Described as the "next major milestone in delivering smooth gameplay and advanced pixel integrity to gamers," FreeSync 2 expands on the initial promise of a tear- and stutter-free experience by adding High Dynamic Range (HDR) enhancements into the mix.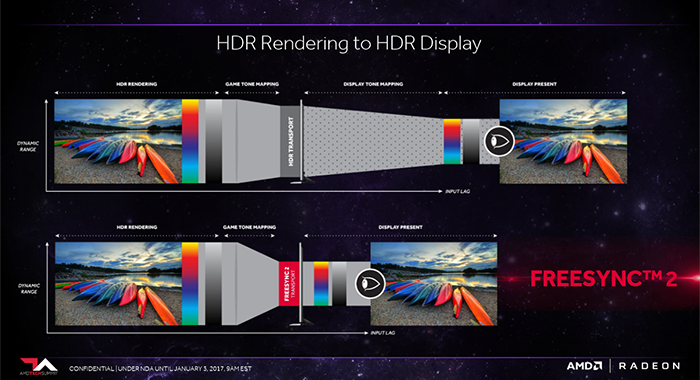 Understanding that the HDR gaming experience on PC is at risk of lagging behind the latest games consoles, AMD cites "higher-than-acceptable" latency as a drawback to current HDR setups. The firm's workaround is to offload tone mapping from the display to the Radeon GPU, allowing the game engine to tone map directly to the display's target luminance, contrast and colour space using new FreeSync 2 APIs.
Any cut in latency is good news for gamers, yet while HDR is one to watch for the future, existing FreeSync users will be pleased to learn that the certification requirements have been tightened for FreeSync 2. This time around, display manufacturers wanting to employ the technology will required to support Low Framerate Compensation (LFC), whereby the maximum framerate is at least 2.5x the minimum.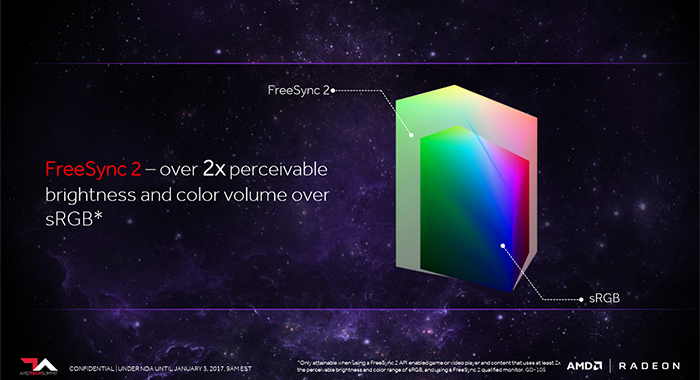 Low latency, smooth gaming and the vibrance of HDR seems a perfect formula, though there are potential hurdles to overcome. A more demanding certification process is likely to increase costs, it remains to be seen how many game developers will choose to harness the HDR APIs, and with AMD making a play for the high-end market, we don't imagine the first batch of FreeSync 2 displays will be cheap.
Suggesting that the refreshed technology may initially be the preserve of the enthusiast, AMD has confirmed that FreeSync and FreeSync 2 will co-exist on the market. The good news for gamers contemplating an upgrade is that all FreeSync-compatible Radeon GPUs will offer full support for FreeSync 2 and there shouldn't be too long to wait as the first qualifying monitors are expected to arrive within six months.