Supermicro has a gaming sub-brand by the name of SuperO which recently got its own website, Facebook and Twitter feeds. Yesterday it apparently published details and pictures of a range of LGA 1151 socket motherboards built around Intel Z270 and H270 chipsets. At the time of writing the details look to have been taken down.
Four Kaby Lake desktop gaming motherboards were listed, all described as 'Powerful Gaming' boards. I've put together a summary of the boards below with details courtesy of WCCF Tech :
SuperO C7Z270-CG
A full sized ATX in black & green (for Nvidia fans?). The motherboard features a substantial VRM section with heatpipe cooling. It is designed to be seen with its conspicuous SuperO branding and I/O cover.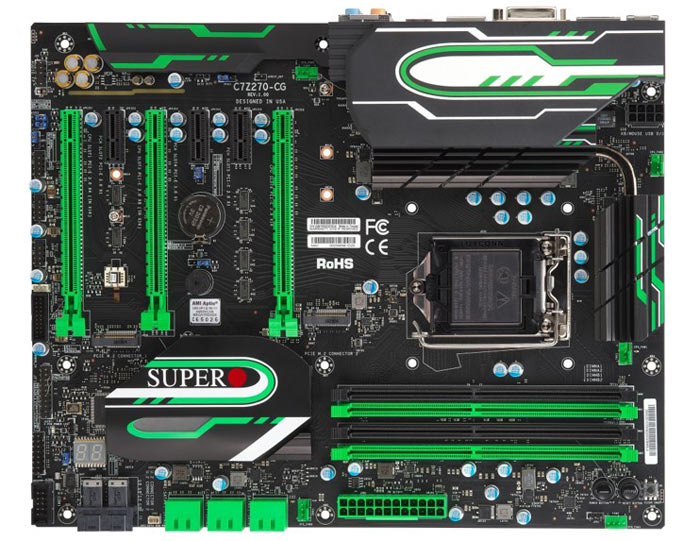 This motherboard features 4x DDR4 DIMM slots (up to 64GB). You can also see 3x PCI-e 3.0 x16 slots and 3x PCI-e 3.0 x1 slots present. Two M.2 slots provide support for next gen flash storage devices and you can also see 2x U.2 ports near the 6x SATA 6GB/s connectors.
SuperO C7Z270-PG
The SuperO C7Z270-PG Offers the same chipset and similar features to the above 'CG' suffixed board, but a more modest appearance and a few features cut down. For instance it has 4x PCI-e x16 slots and only a single PCI-e 3.0 x4 slot. Storage is catered for by 2x M.2 slots plus 6x SATA 6GB/s connectors. (pictured below, left).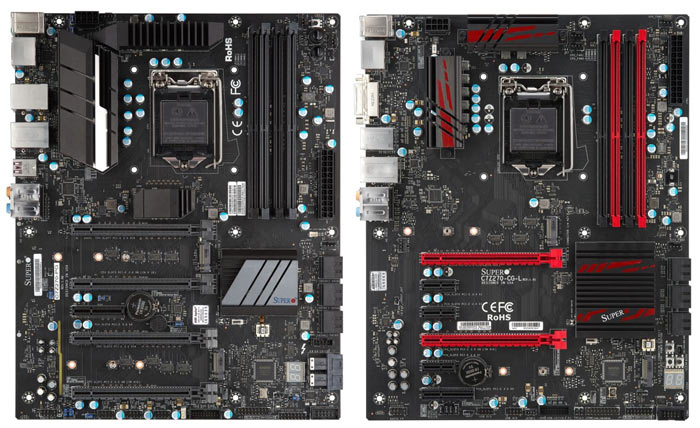 SuperO C7Z270-CG-L
This red and black board (pictured above, right) has 2x PCI-e 3.0 x16, 3x PCI-e 3.0 x1, a single PCI-e 3.0 x4, 2x M.2 slots, and 6x SATA III 6GB/s ports. Apparently it will cost below $200.
SuperO C7H270-CG-ML
This is the sole H270 chipset motherboard that was listed. It is a micro-ATX size board so obviously has a much reduced component area. Nevertheless it still sports 4x DDR4 DIMM slots like all the above boards. For expansion cards you have one of each of the following; a PCI-e 3.0 x16, a PCI-e 3.0 x4 and a PCI-e 3.0 x1 slot.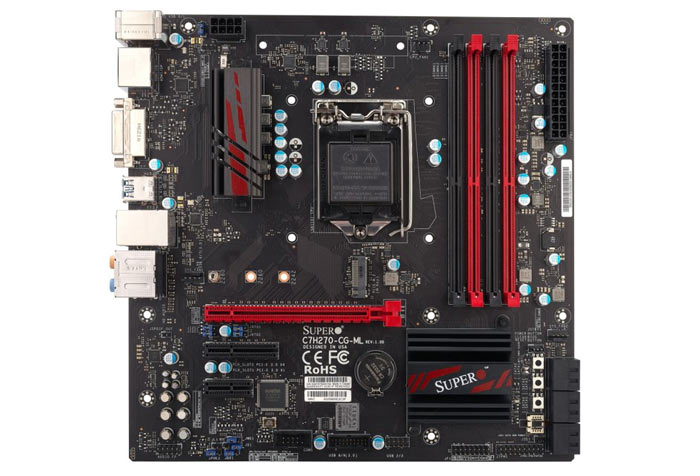 Storage devices can be connected via the single M.2 or via the 6x SATA 6GB/s connectors. This board should cost $150 or less.
Remember these Kaby Lake boards are waiting in the wings until the desktop 7th gen Core chips are released by Intel early next year. So these boards will probably be made available at that same time. On the way to that time I'm sure we will see more leaks about the processors and supporting motherboards. Only last week we saw a full review of an Intel Core i5-7600K published by Chinese tech site PCOnline (installed on a Z170 motherboard).