Intel has published a raft of internal server benchmark results comparing its Broadwell-EP, Skylake-SP, and AMD's EPYC processors. This may well be Intel's reaction to AMD's publicity last week which boasted of the performance and efficiency of the HPE ProLiant DL385 Gen10 server, powered by AMD Epyc processors.
For its tests Intel got its hands on a two-socket Epyc system from Supermicro and pitted it against similar Intel systems. You will find Intel's benchmarking rather more wide ranging than what we saw last week with AMD servers. In the Intel tests we see Intel plough through 110 benchmark test runs while AMD boasted of breaking records in just a pair of floating point tests.
In a report published by The Next Platform, Intel Data Center Group product marketing head Dave Hill is quoted as saying that while Intel leads "on the majority of the workloads," AMD still pulls ahead on some memory bound workloads. Hill goes on to play the single thread card "As far as the key thing of performance per core, a lot of cloud workloads have grown up around the single-threaded performance of Xeon in the past ten years, and that is one of our key advantages. There is always a single-threaded bottleneck in some workload somewhere."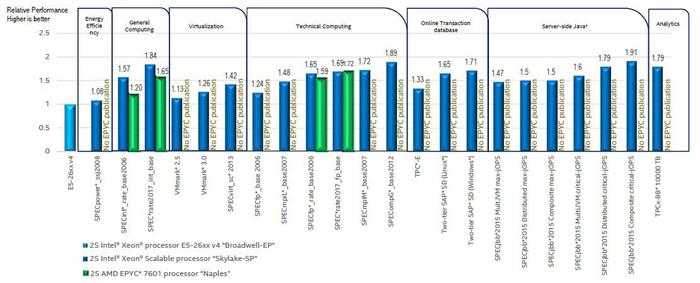 In the table above you can see that not so many auditable benchmarks have an AMD Epyc result (click to zoom). While Intel is ahead in nearly all of them, we must remember value. The dark blue bars are benchmarks from a system packing Intel's Skylake-SP 8180M (MSRP of $13,000), that's considerably more than the AMD Epyc 7601 price of approx $4,200.

In the table above you can see single node servers packing the competing processors (click to zoom). The Next Platform notes that Intel used its own compilers for its own processors. Meanwhile for the AMD processors Intel used three compilers and chose the best result. It is thought that some sensitive work in this area by AMD gurus could help the Epyc along somewhat.
Another interesting facet of the chart above is that Intel's Xeon SP-6148 Gold chip, which costs $3,072 at list price and which has 20 cores running at 2.4GHz, usually isn't very far behind the the Xeon SP-8160M Platinum processor, which costs more than twice as much ($7,704 at list price).
In another analysis of the above Intel tests, Tom's Hardware says it expects Intel to adjust its product stack and become more price competitive in areas where AMD is providing the greatest challenge. Intel said it will share more tests results vs AMD Epyc processors in the future. Remember, it's not just AMD that is after Intel's lucrative data centre market, Qualcomm has started to compete seriously too.