It has been about six years since the introduction of the PCI-Express 3.0 standard. However, we won't have to wait much longer for the PCI-Express 4.0 standard: the final specification should be finalised before the year is out. PCIe 4.0 will bring a headlining bandwidth increase to 16 GT/s and an important step up in slot power delivery capabilities to 300W+.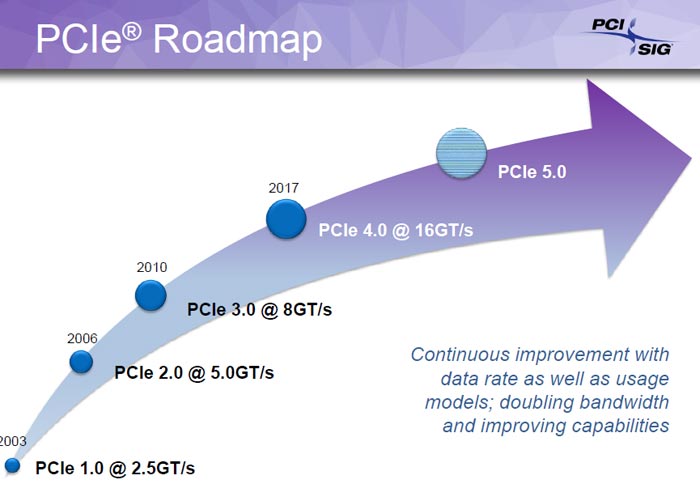 According to a report published by Tom's Hardware, the PCI-SIG is "just 'days away' from releasing version 0.7 of the PCIe Express 4.0 specification to members," to be followed by 0.9, then 1.0 by the end of 2016. Some companies are already preparing PCIe 4.0 products. Mellanox has showcased the ConnectX-5 100 GB/s Adapter, as can be seen below. This product follows 0.7 spec but will be updated when 1.0 is published. Tom's also reckons the recently revealed AMD Naples was demoed on a motherboard with PCIe 4.0.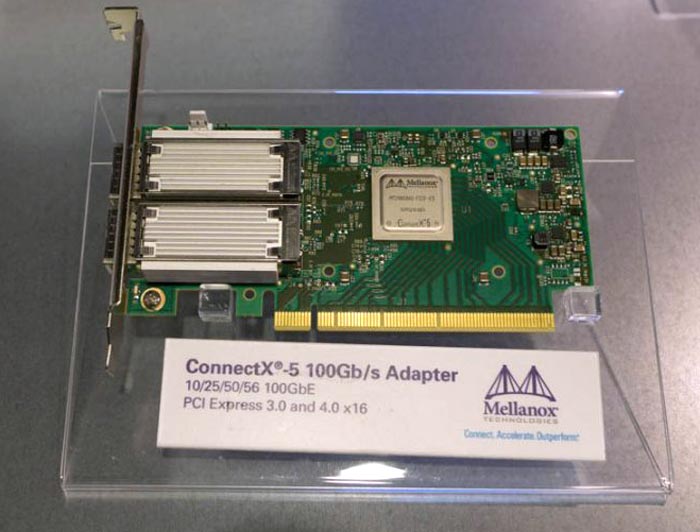 A nice, clear table published by Tom's Hardware shows the speed improvements offered by PCIe 4.0, see below. Its x1 bandwidth is approaching 2GB/s, with high performance x16 devices able to tap into up to 31.5GB/s of bandwidth. Put simply it offers double the maximum possible bandwidth of PCIe 3.0. PCIe 4.0 offers full duplex communications but the figures below are for single direction performance.

Connect a GeForce Titan X without needing a power connector?
Richard Solomon, Vice President of PCI-SIG, told Tom's Hardware that there would also be a significant step up in the power delivery capabilities of PCIe 4.0 slots. Solomon was asked about the power ceiling but could only recall that it would be a minimum of 300W, and maybe as high as 500W. PCIe 3.0 is certified for 75W delivery. A 300W+ delivery at the socket could remove the need for extra power connectors for even the most powerful graphics cards.
UPDATE from the original Tom's Hardware source regarding power delivery at socket:
"PCI-SIG reached out to tell us that the power increase for PCI Express 4.0 will come from secondary connectors and not from the slot directly. They confirmed that we were initially told incorrect information. We have redacted a short passage from our original article that stated what were originally told, which is that the slot would provide at least 300W, and added clarification:"
PCIe 3.0 max power capabilities: 75W from CEM + 225W from supplemental power connectors = 300W total
PCIe 4.0 max power capabilities: TBD
Interestingly there's also a new OCuLink standard to bring PCIe 'outside-the-box'. This could bring fast PCIe graphics cards and storage solutions to the likes of laptop docks.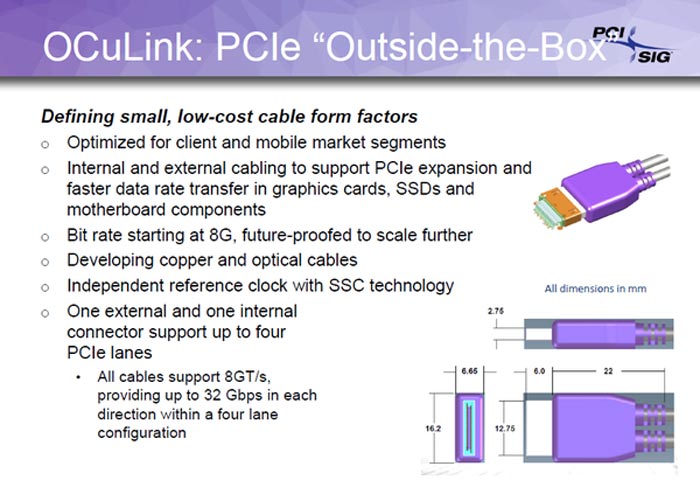 Both AMD and Nvidia are members of the PCI-SIG. However, it's not known whether AMD Navi and Nvidia Volta will transition to making full use of the new interface. The PCI-SIG is already working on PCIe 5.0 so we hopefully won't have to wait another six years for that.