ASRock update
At the weekend we covered the news that ASRock had a BIOS ready for release that would enable those with one of its Z170 motherboards and a non-K Skylake processor to dabble in some overclocking. It worked by enabling users to adjust the BCLK, among other things. In early tests this BIOS update allowed users of budget processors such as the Intel Core i3-6100 to gain a respectable extra gigahertz of speed.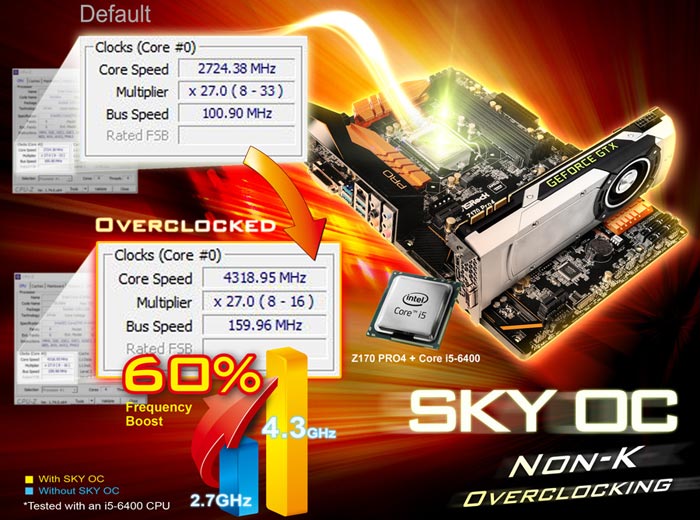 ASRock released the BIOS files referred to a couple of days back and penned a blog about the new facility. It called the feature SKY OC, as you can see from the garish promotional graphic above. With SKY OC (or other motherboard manufacturer equivalent) in action users can't make use of onboard Intel graphics, and the CPU Turbo Ratio and C-State will also be disabled.
ASRock SKY OC is supported by the following motherboards;
| | | | |
| --- | --- | --- | --- |
| Model | BIOS | Model | BIOS |
| Z170 OC Formula | L1.92 | Z170M Pro4 | L2.23 |
| Z170 Extreme7+ | L2.16 | Z170M Pro4S | L2.23 |
| Z170 Extreme6+ | L1.82 | Z170M-ITX/ac | L1.83 |
| Z170 Extreme6 | L1.82 | Z170A-X1/3.1 | L1.31 |
| Z170 Extreme4+ | L2.01 | Z170 Professional Gaming i7 | L1.14 |
| Z170 Extreme4 | L2.01 | Z170 Gaming K6+ | L1.92 |
| Z170 Extreme3 | L1.61 | Z170 Gaming K6 | L1.92 |
| Z170M Extreme4 | L1.34 | Z170 Gaming K4 | L2.23 |
| Z170 Pro4 | L2.83 | Z170 Gaming K4/D3 | L1.51 |
| Z170 Pro4/D3 | L1.74 | Z170 Gaming-ITX/ac | L1.53 |
| Z170 Pro4S | L2.73 | | |
MSI joins in the non-K OC fun
In our initial report it was noted that ASUS was shortly going to implement non-K Skylake OC in its suitable motherboards. However it looks like it has been beaten to the draw, as MSI users already have such a feature available, with no word from ASUS as yet.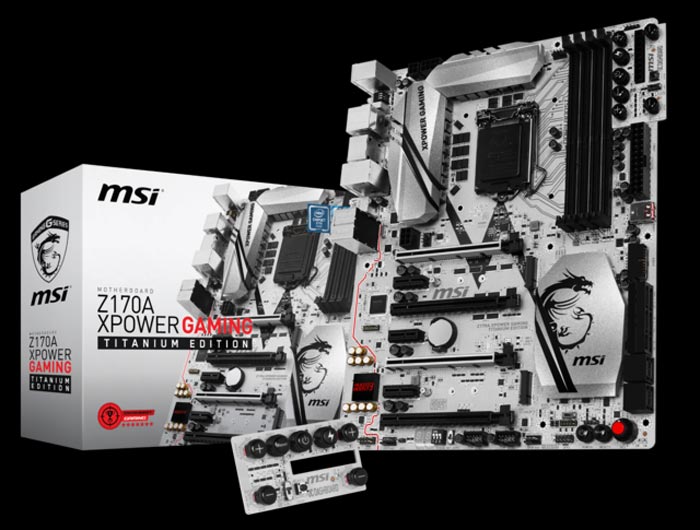 Tech site KitGuru reports that the MSI motherboards supporting BCLK OC are as follows; the XPOWER GAMING TE, GAMING M9, GAMING M7, GAMING M5, and G45 GAMING. The BIOS update for the MSI boards can be found here. Caution is advised in updating your MSI motherboard for this feature as MSI's BCLK OC support looks like it might come from a third party at this time.
In other MSI news, it has been quick to act in the face of the news that some Skylake processors are bending under cooler mount pressure - as it has launched CPU GUARD 1151.