According to a report carried by German language tech site Planet3DNow, AMD motherboard partners are working on the assumption of a March 2016 launch for the AM4 platform. If this information is accurate it could imply an early launch for the motherboards and perhaps even for the associated Zen processors – a whole six months to one year early.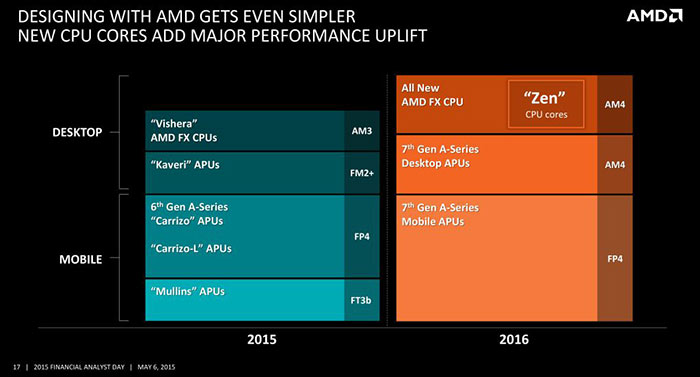 In the background to this new information it is said that Zen chips have been successfully taped out and tested and are satisfied with the results. Planet3DNow made its enquiries to a motherboard manufacturer, as Zen uses a new socket and DDR4 support, and motherboard designs would need to be in place ahead of the chips being ready.
AM4 motherboards will support both CPUs and APUs revealed AMD, back in May. The 14nm Summit Ridge 'All New AMD FX CPU' and the 28nm Bristol Ridge seventh generation A-Series Desktop APUs will be supported by the AM4 platform, which brings more modern I/O and DDR4 to the table.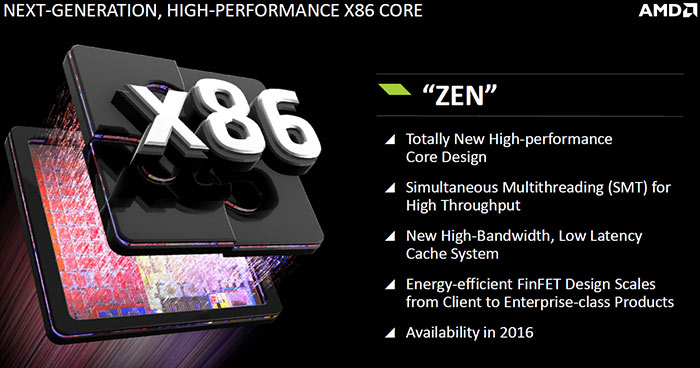 Previously Zen and its supporting motherboards were expected in Q4 2016. Now it looks like we will at least see the motherboards and 7th gen 'Carrizo' core APUs before the summer. Planet3DNow thinks that Zen could come early too, as an Opteron for the server market, for example. Its theory is backed by the pressing need for AMD to deliver some high profile money spinning products to the market and sooner would be better.
Another rumour about socket AM4, as mentioned by TweakTown, is that it will have greater longevity than previous platform motherboards. Both Summit Ridge CPUs and Bristol Ridge APUs (with GCN GPU cores) and are said to have a TDP of 95W.