We saw MSI unveil its new ECO Series motherboards at Computex last month. There's a HEXUS produced video here with a good overview of the energy efficient range. Unlike disabling integrated motherboard peripherals via the BIOS, MSI's Windows software disables the function and cuts power being supplied to that component to "zero watts". MSI boasted that its ECO motherboard owners could in this way reduce motherboard energy consumption by up to 40 per cent with no performance impact and with 100 per cent compatibility.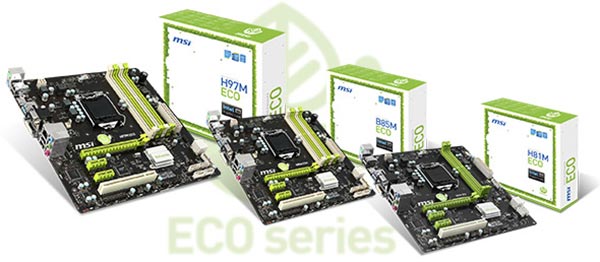 HEXUS received MSI's official announcement of the ECO series motherboards today. The firm claims that this new series provides "groundbreaking power saving without compromising on performance". Another bold, but nebulous, claim is that its use of an ingenious motherboard design results in "less power consumption than a energy efficient lightbulb". That's enough PR bluster; let's get a look at some cold hard specs…
MSI's ECO range of motherboards will initially consist of three models; the MSI H97M ECO, B85M ECO and H81M ECO. As regular HEXITES will guess these are named after the chipsets which they feature at their hearts (the Intel H87, B85 and H81 respectively). The motherboards support the latest 4th generation processors from Intel but are particularly suited to work with Intel S & T series power efficient parts. The MSI ECO motherboards also offer standard features such as single and dual channel high speed DDR3 memory, fast Gigabit LAN from Intel, SATA 6Gb/s and USB 3.0 connections aplenty.
The new ECO hardware uses a hardware based control to cut off all power to features on the motherboard such as USB and SATA ports which may not be needed by a particular user. The hardware control also allows the user to change the standby power features of the motherboard. MSI also provides an 'ECO Button' on the motherboard to "load the default ECO mode and start saving power immediately".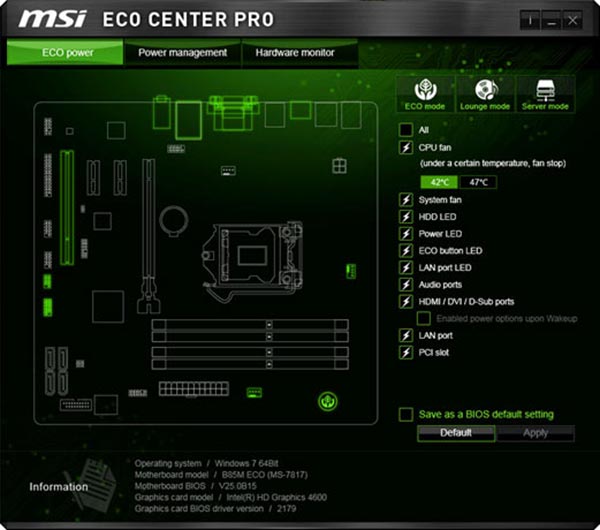 MSI's custom software to control the power saving functionality, ECO Center Pro, allows turning off and on of the system fans, LEDs, PCI slots, LAN ports and audio/video ports. For convenience it provides three customisable configurations for users; ECO Mode, Lounge Mode and Server Mode.
As you might expect from MSI motherboards these also make use of Military Class 4 capacitors and chokes for durability and also MSI's Guard-Pro optimisation and system hardware protection tool is present and correct.
At the time of writing direct product links weren't available on the MSI web site and we don't have pricing or availability info as yet.