AMD partners proudly showed off their X570 motherboard efforts at Computex a couple of weeks ago. Products based upon the X570 chipset will be released to tie in with the availability of the new 3rd Gen AMD Ryzen Matisse CPUs in July. It looks like there will be lots to choose from and a major attraction will be the on-board PCI Express 4.0 connectivity, plus the latest supporting technologies on the AMD platform.
Under the radar, further chipsets are being readied to support of AMD's upcoming Zen 2 processors. The X570 chipset is quite a high-end choice, for gamers and enthusiasts, so understandably there will be more chipsets produced for other significant market segments.
Asus ROG teased its first AMD X590 chipset just ahead of the weekend. The tweet featuring a mostly obscured motherboard photo was taken down but not before it was preserved for posterity, as you can see below. @1usmus is the 'DRAM Calculator for Ryzen' developer.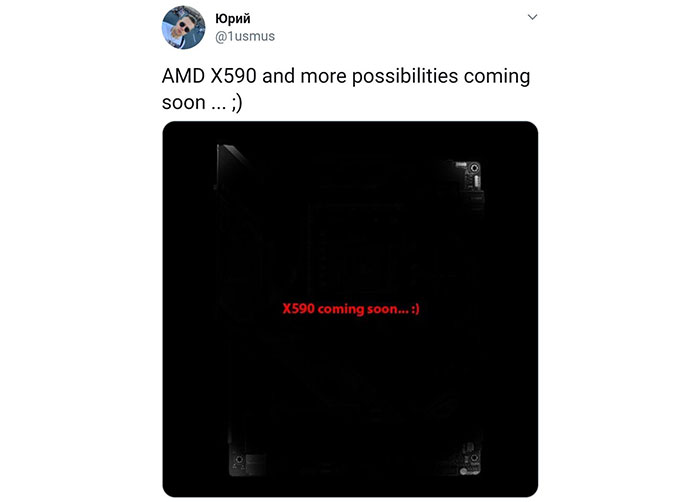 Separately ComputerBase.de has noted that a batch of upcoming Gigabyte X570 motherboard BIOS files contain options for "X570/590 chipsets". The above tweet and this information aren't very enlightening, so what X590 brings to the table is open to speculation. It isn't expected to be for the new Threadripper processors (would be X599?). Instead it is thought to deliver more PCIe 4.0 lanes, and more advanced overclocking support for the top-end consumer processors such as the Ryzen 9 3950X (16C/32T).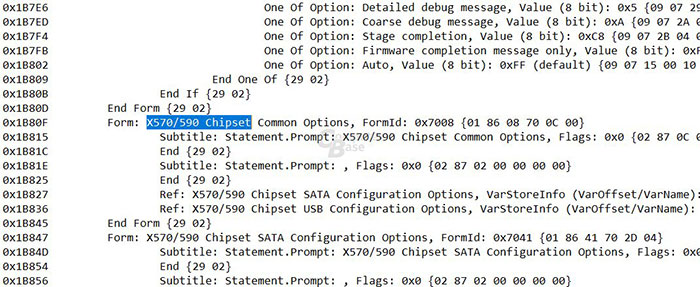 ASMedia will be producing AMD's B550 and A520 chipsets, reports Taiwan's DigiTimes. The report asserts that motherboards based on B550 and A520 completely lack PCIe gen 4.0. However, if you fit a Zen 2 processor to the board it may still get a PCI-Express 4.0 x16 slot, and M.2 slot that with PCI-Express 4.0 x4 wiring from the AM4 SoC.