Tyan has launched its 45nm based Intel platforms
Unveiled at SC07, the Tempest S5375 motherboard and GT20 B5375 barebones offer support for the latest 45nm based Intel Xeon processors.
The S5375 pictured below provides support for up to two Intel 5100/5200/5400 processors with its Dual LGA771 sockets. Featuring eight DDR2 DIMM slots to optimise memory bandwidth providing a larger memory bandwidth for an ATX form factor, the board will support a maximum of 32GB DDR2 memory. In addition, the board offers six expansion slots; One PCI-E x16, one PCI-E x8, two PCI-X 1.0 and two PCI 2.2 slots.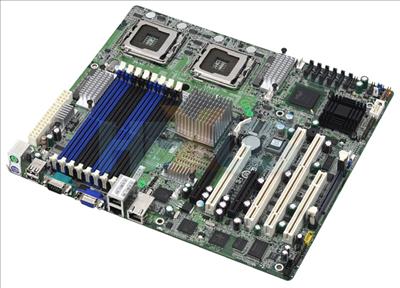 "With the new 45nm Intel® Xeon® processor, a series of Tyan platform is edged with exceptional value designed for the blade server infrastructure," said Scott Twomey, Director of Sales and Marketing.  "Tyan's newly launched platform is tying the power savings, energy efficiency, and performance all together into one seamless scalable server."
Official press release: http://www.hexus.net/content/item.php?item=10391