Popular PC component manufacturer Asus has detailed four of its AMD AM4 motherboards for Ryzen CPUs. The firm has chosen to highlight a diverse quartet of boards from what we presume will be a much larger selection launching a little later. In a feature on the Asus Edge Up blog we get guided through the following offerings:
The Asus ROG Crosshair VI Hero is the firm's flagship enthusiast gaming board. This fully featured top of the line motherboard uses AMD's X370 chipset, supports 2-way SLI and CrossFireX (with dual SafeSlot), and is designed for easy CPU overclocking. Cooling considerations feature prominently with Asus Fan Xpert, one 1A header for AIO water coolers, and five more for traditional CPU and system fans, plus liquid cooling enhancements via a flow tachometer and temperature in/out sensors.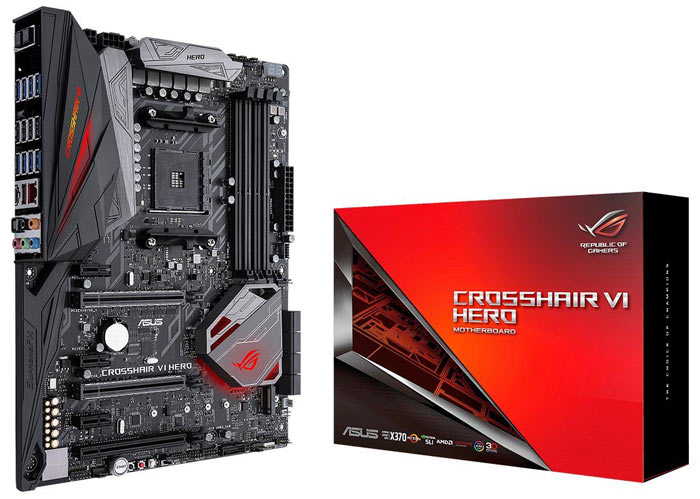 'Cutting-edge I/O' is provided on the Crosshair VI with an ultra-fast M.2 slot linked directly to the CPU, and NVMe SSDs being able to take advantage of up to four lanes of PCI Express 3.0. On the back panel you've got handy CMOS clear and flashback switches alongside a bevy of ports including 10Gbps USB 3.1 ports in Type-A and reversible Type-C flavours, Intel Gigabit Ethernet, and SupremeFX S1220 audio I/O. No video I/O is provided as Asus reckons Crosshair VI users will shell out for a dedicated graphics card. For your RGB LED thrills this board supports Asus Aura, with RGB 4-pin header and built-in RGB LEDs in two zones.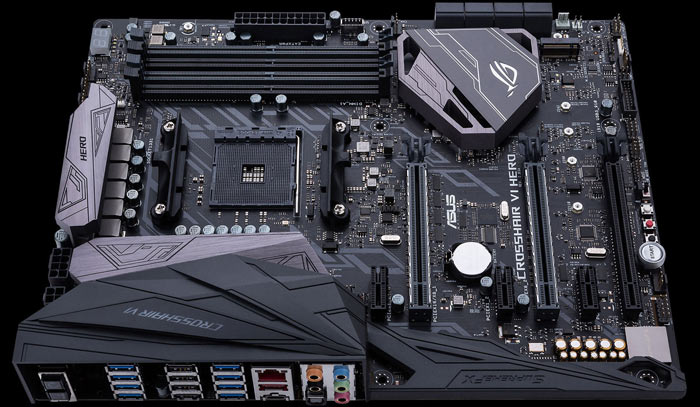 Asus has this and all the other boards in its buying guide available for pre-order in places like Amazon and Newegg. The Asus ROG Crosshair VI Hero has an RRP of US$254.99 and is released on 2nd March. For further reading about this flagship you can head over to the Asus ROG blog where it is featured on its own.
The Asus Prime X370 Pro is also aimed at enthusiasts but offers slightly lower spec; smaller heatsinks, lower end built-in audio. However with its DisplayPort and an HDMI port it can be used with AMD's APUs.
Stepping down to the next model, the Prime B350M-Plus, this uses the AMD B350 chipset. Check out the table below for an overview of the differences between the AMD chipsets.
| | | | |
| --- | --- | --- | --- |
| | X370 | B350 | A320 |
| Overclocking | Y | Y | N |
| PCIe 3.0 x8/x8 | Y | N | N |
| PCIe 2.0 | 8 | 6 | 4 |
| USB 3.1 | 2 | 2 | 1 |
| USB 3.0 | 6 | 2 | 2 |
| USB 2.0 | 6 | 6 | 6 |
| SATA | 6 | 4 | 4 |
| RAID | 0,1,10 | 0,1,10 | 0,1,10 |
Asus announced just one MicroATX board among the four, and it is the cheapest and most limited option; the Prime B350M-A, pictured above. Though it is still overclocking capable, it has no VRM heatsinks which will likely limit its potential in that area. For your convenience a comparison table with all the four above mentioned motherboards is reproduced below.
Size

ATX

ATX

ATX

microATX

Chipset

X370

X370

B350

B350

Memory

4 x DDR4 up to 3200 (OC)

4 x DDR4-2666

4 x DDR4-2666

4 x DDR4-2666

Multi-GPU

CrossFireX
2 x SLI

CrossFireX
2 x SLI

CrossFireX

NA

PCIe

2 x16 3.0
1 x16 2.0
3 x1 2.0

2 x16 3.0
1 x16 2.0
3 x1 2.0

1 x16 3.0
1 x16 2.0
2 x1 2.0

1 x16 3.0
2 x1 2.0

M.2

1 x4/SATA

1 x4/SATA

1 x4/SATA

1 x4/SATA

SATA

8

8

6

6

Ethernet

Intel

Intel

Realtek

Realtek

Audio

SupremeFX
S1220

S1220A

887-VD2

887-VD2

USB 3.1

1 x front
1x Type-C
1 x Type-A

1 x front
2 x Type-A

2 x Type-A

2 x Type-A

Display

N

Y

Y

Y

Aura

Chipset, 2 x strip

1 x strip

NA

NA

Price

$254.99 USD
$328.99 CAD

$169.99 USD
$218.99 CAD

$99.99 USD
$139.99 CAD

$89.99 USD
$119.99 CAD

Pre-order (USA)