We have seen previous efforts by Microsoft to counter the Google Chromebook threat. Microsoft has helped lower the price of Windows laptops, tablets and 2-in-1s with its Windows 8.1 with Bing initiative. Then it added value to these devices with various Office suite bundles. The availability of cheap yet capable Intel processors has aided its efforts to counter Chromebooks blow-for blow.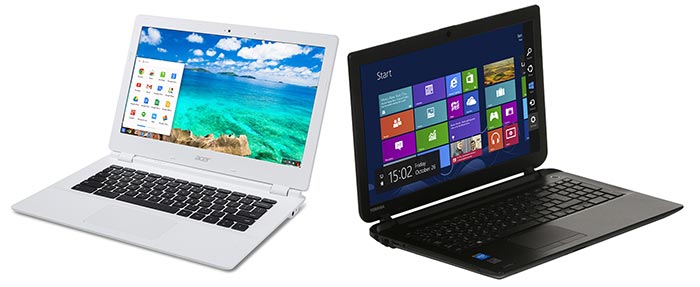 Chromebooks are supposed to get cheaper soon with the help of Rockchip solutions. Such devices are expected to be priced at around $179 and will come in a variety of screen sizes from 11.6, 13.3 to 15.6-inches. According to DigiTimes Microsoft has been watching Chromebook development and has decided to create a pair of inexpensive laptops to counter Google.
Two new Microsoft laptops are said to be due this summer. Both are 11.6-inch clamshell style devices and will be priced at $149 - $179 according to DigiTimes' sources. An educational targeted laptop will be built by Elitegroup (ECS) for Microsoft and be sold through the usual education channels, like Intel Classmate PCs. This product is expected to sell for $179. The consumer laptop design will be made by China-based 3 Nod Digital Group and be sold at prices starting from $149.

As readers might guess the two upcoming Microsoft laptops will be based around Intel's BayTrail-T processor. Microsoft may expand the range with models sporting screens larger than 11.6-inches depending upon the market and moves by the competition.
In related news Microsoft might soon be launching a cheaper Intel-powered Surface 3 tablet, to coincide with its BUILD conference, we heard last week.